Full Bio:
Hey, Sugar! My name is Billie Jayne DeVille. I was born and raised a Georgia Peach but I now
call South Carolina my home. I'm a full-time artist/pinstriper and a total sucker for whitewall
tires and big tailfins! When I'm not painting, you can find me cruising in my 53 Chevy, my 55
Cadillac or in the shop getting down and dirty with my 58 Plymouth restoration project!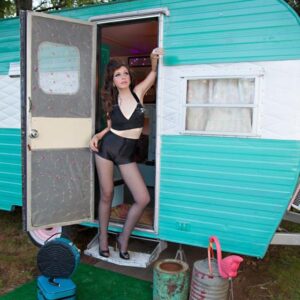 Short Bio:
♥ Shellie Schmals loves Retro! ♥
Pinup * Burlesque // Performer & Producer
Full Bio:
Shellie Schmals hearts the arts!! She's a pin up lovin' - microphone holdin' - event hustlin' - dynamo, who can be seen around town mixing up the worlds of film, art, fashion and comedy.
As a talent wrangler and producer/emcee, she's involved in many projects including Roxie Roz burlesque, Small Secret Things, #TheABCDShow; has collaborated as an emcee or worked on stage crew for productions by Syrens of the South, Ariel Allegro, Evangeline Laveau, The FANDom Nerdlesque, Sadie Hawkins, Glitter Goddess Productions, Trashy Diva, Trixie Minx Productions; and is a proud member of the Georgia Pinup Posse and Women in Film & Television Atlanta, where Shellie sits on the Board of Directors as Secretary, coordinates the WIFTA panels at Dragon Con 2020 (Film Track), and co-chairs the annual #WIFTAConfab (short film & talent showcase).
Shellie's column, "My Adventures in Burlesque" debuted in the March 2020 issue of The Georgia Hollywood Review.
As an internationally published pinup, Shellie has been featured in:
* VoyageATL, Art & Life section
* Cat's Pajamas Magazine
* Georgia Pinup Posse Calendar, 2018, 2019, 2020
* Tres' Jolie Magazine
* DeVoe Magazine (Cover Model)
* The Cat's Meow Magazine
* Classy Keen Issue #2
* Girls of Relapse Calendar 2012, 2013
* Vintage Vixens Magazine, Premiere Issue
* The Cat's Meow Magazine: Pre-Furred Pin-up
* Jezebel Magazine: "Street Style" Featured Model
* Atlanta Street Fashion: Featured Model
* Portraits By Shannon Jenkins: Featured Model
* The Cat's Meow Magazine: Featured Pin-Up
* ScoutMob Atlanta: Creative Eye
* CommonCreativ Magazine: 50 Most Creative Atlantans
* ATLRetro.com: Kool Kat of the Week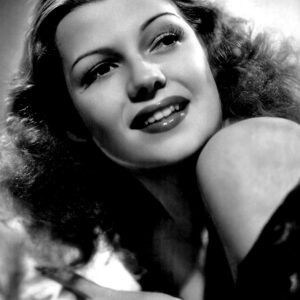 Full Bio:
Hayworth in 1946
Born
Margarita Carmen Cansino
October 17, 1918
Brooklyn, New York, U.S.
Died
May 14, 1987 (aged 68)
Manhattan, New York, U.S.
Cause of death
Alzheimer's disease complications
Resting place
Holy Cross Cemetery, Culver City
Occupation
Actress, dancer
Years active
1931–1972
Spouse(s)
Edward C. Judson
(m. 1937; div. 1942)
Orson Welles
(m. 1943; div. 1947)
Prince Aly Khan
(m. 1949; div. 1953)
Dick Haymes
(m. 1953; div. 1955)
James Hill
(m. 1958; div. 1961)
Children
2, including Yasmin Aga Khan
Parent(s)
Eduardo Cansino
Volga Hayworth
Relatives
Richard Cansino (nephew)
Vinton Hayworth (uncle)
Signature
Rita Hayworth (born Margarita Carmen Cansino; October 17, 1918 – May 14, 1987) was an American actress and dancer. She achieved fame during the 1940s as one of the era's top stars, appearing in 61 films over 37 years. The press coined the term "The Love Goddess" to describe Hayworth after she had become the most glamorous screen idol of the 1940s. She was the top pin-up girl for GIs during World War II.[1]
Hayworth is perhaps best known for her performance in the 1946 film noir Gilda, opposite Glenn Ford, in which she played the femme fatale in her first major dramatic role. Fred Astaire, with whom she made two films, once called her his favorite dance partner. Her greatest success was in the Technicolor musical Cover Girl (1944), with Gene Kelly. She is listed as one of the top 25 female motion picture stars of all time in the American Film Institute's survey, AFI's 100 Years...100 Stars.
In 1980, Hayworth was diagnosed with Alzheimer's disease, which contributed to her death at age 68. The public disclosure and discussion of her illness drew attention to Alzheimer's, which was largely unknown by most people at the time, and helped to increase public and private funding for Alzheimer's research.
Peak years at Columbia[edit] Hayworth had top billing in one of her best-known films, the Technicolor musical Cover Girl, released in 1944.[25] The film established her as Columbia's top star of the 1940s, and it gave her the distinction of being the first of only six women to dance on screen with both Gene Kelly and Fred Astaire.[26] "I guess the only jewels of my life", Hayworth said in 1970, "were the pictures I made with Fred Astaire ... And Cover Girl, too."[27]
Hayworth and choreographer Jack Cole in Tonight and Every Night (1945)
For three consecutive years, starting in 1944, Hayworth was named one of the top movie box-office attractions in the world. She was adept in ballet, tap, ballroom, and Spanish routines. Cohn continued to showcase Hayworth's dance talents. Columbia featured her in the Technicolor films Tonight and Every Night (1945) with Lee Bowman and Down to Earth (1947) with Larry Parks.[citation needed]
Hayworth as Gilda (1946)
Her sexy, glamorous appeal was most noted in Charles Vidor's film noir Gilda (1946) with Glenn Ford, which caused censors some consternation. The role, in which Hayworth wore black satin and performed a legendary one-glove striptease, "Put The Blame On Mame", made her into a cultural icon as a femme fatale.[3]
While Gilda was in release, it was widely reported that an atomic bomb which was scheduled to be tested at Bikini Atoll in the Pacific Ocean's Marshall Islands would bear an image of Hayworth, a reference to her bombshell status. Although the gesture was undoubtedly meant as a compliment,[28] Hayworth was deeply offended. Orson Welles, then married to Hayworth, recalled her anger in an interview with biographer Barbara Leaming: "Rita used to fly into terrible rages all the time, but the angriest was when she found out that they'd put her on the atom bomb. Rita almost went insane, she was so angry. ... She wanted to go to Washington to hold a press conference, but Harry Cohn wouldn't let her because it would be unpatriotic." Welles tried to persuade Hayworth that the whole business was not a publicity stunt on Cohn's part, that it was simply homage to her from the flight crew.[14]:129–130
On the June 30, 1946, broadcast of Orson Welles Commentaries, Welles said of the imminent test, "I want my daughter to be able to tell her daughter that grandmother's picture was on the last atom bomb ever to explode."[29]
The fourth atomic bomb ever to be detonated was decorated with a photograph of Hayworth cut from the June 1946 issue of Esquire magazine. Above it was stenciled the device's nickname, "Gilda", in two-inch black letters.[30]
Hayworth in The Lady from Shanghai (1947)
Hayworth's performance in Welles's 1947 film The Lady from Shanghai was critically acclaimed.[3] The film's failure at the box office was attributed in part to Hayworth's famous red hair being cut short and bleached platinum blonde for the role. Cohn had not been consulted and was furious that Hayworth's image was changed.[citation needed]
Also in 1947, Hayworth was featured in a Life cover story by Winthrop Sargeant that resulted in her being nicknamed "The Love Goddess".[31] The term was adopted and used later as the title of a biopic and of a biography about her. In a 1980s interview, Hayworth said, "Everybody else does nude scenes, but I don't. I never made nude movies. I didn't have to do that. I danced. I was provocative, I guess, in some things. But I was not completely exposed."[10]:234
Her next film, The Loves of Carmen (1948) with Glenn Ford, was the first film co-produced by Columbia and Hayworth's production company, The Beckworth Corporation (named for Rebecca, her daughter with Welles). It was Columbia's biggest moneymaker that year. She received a percentage of the profits from this and all her subsequent films until 1954, when she dissolved Beckworth to pay off debts.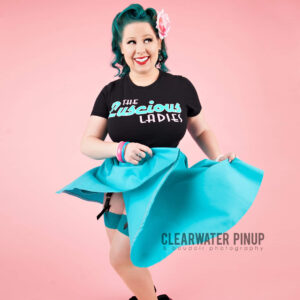 Short Bio:
Hi! I'm Mayzie! I'm a vintage/retro pinup model based in Tampa Bay, Florida
Full Bio:
I have always had a love of vintage, and with finding the pinup/rockabilly lifestyle, I feel like I have finally found my place in this crazy world!
I'm a mom of six - 3 human kids and 3 dachshund puppies! When I'm not busy at home or modeling, I'm also a professional photographer. My Husband & I own Clearwater Pinup and Boudoir Photography.
Why "Mayzie"?
I am a HUGE Dr. Seuss fan. I have always loved all of his books - I grew up loving thim & have passed the love down to my children. I really wanted to use a name from one of his books, but unfortunately, there were only a handful of names I thought would fit for a pinup name. I ultimately settled on "Mayzie" from "Daisy-Head Mayzie" and "Mayzie La Bird"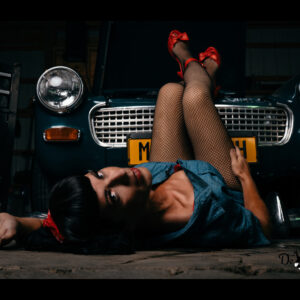 Short Bio:
Meg De'Lish is an upstate New York pin up, who's mission is to instill confidence and body positivity in women of all shapes, sizes, ages, and ability while raising money for worth causes.
Full Bio:
My name is Meg De'Lish, I have been a photographer for most of my life and a Pin Up model for about three years now. I believe the getting involved in causes you believe is an important part of being a pin up and an example for others. I do work to raise money and awareness with veteran's groups and The Rolphie Fund, a charity that helps children in economic need. I also believe that only how beautiful you are matters. One of my biggest inspirations, Dita Von Teese, is older than me and she is still radiant, inspiring, and beautiful. I'm sure she will be for decades to come, and I want to be right there with her pushing the notion that beauty standards have anything to do with age. When I am older I will challenge the concept that only if you are young, in shape and have great skin can you be seen as beautiful, confident, and sexy. Women of all shapes and sizes are beautiful and sexy. To be beautiful, confident and sexy takes inner beauty, which should be a what women and girls strive for... being beautiful from the inside out. Remember, I'm De'Lish... and so are you.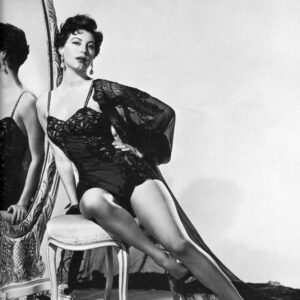 Full Bio:
Born
Ava Lavinia Gardner
December 24, 1922
Grabtown, North Carolina, U.S.
Died
January 25, 1990 (aged 67)
Westminster, London, England
Resting place
Sunset Memorial Park, Smithfield, North Carolina, U.S.
Nationality
American
Education
Rock Ridge High School
Alma mater
Atlantic Christian College
Occupation
Actress
singer
Years active
1941–1986
Height
5 ft 5 3⁄4 in (167 cm)
Spouse(s)
Mickey Rooney
(m. 1942; div. 1943)
Artie Shaw
(m. 1945; div. 1946)
Frank Sinatra
(m. 1951; div. 1957)
Website
avagardner.com
Ava Lavinia Gardner (December 24, 1922 – January 25, 1990) was an American actress and singer. Gardner was signed to a contract with Metro-Goldwyn-Mayer in 1941, and appeared mainly in small roles until she drew attention with her performance in The Killers (1946). She was nominated for the Oscar for Best Actress for her work in Mogambo (1953), and also received BAFTA Award and Golden Globe Award nominations for other films.
Gardner appeared in several high-profile films from the 1940s to 1970s, including The Hucksters (1947), Show Boat (1951), Pandora and the Flying Dutchman (1951), The Snows of Kilimanjaro (1952), The Barefoot Contessa (1954), Bhowani Junction (1956), On the Beach (1959), 55 Days at Peking (1963), Seven Days in May (1964), The Night of the Iguana (1964), The Bible: In the Beginning... (1966), Mayerling (1968), Tam-Lin (1970), The Life and Times of Judge Roy Bean (1972), Earthquake (1974), and The Cassandra Crossing (1976). Gardner continued to act regularly until 1986, four years before her death in London in 1990, at the age of 67.
She is listed 25th among the American Film Institute's 25 Greatest Female Stars of Classic Hollywood Cinema.[1] Career[edit] 1941[edit]
Gardner in 1947
Gardner was visiting her sister Beatrice in New York in 1941, when Beatrice's husband Larry Tarr, a professional photographer, offered to take her portrait. He was so pleased with the results that he displayed the finished product in the front window of his Tarr Photography Studio on Fifth Avenue.[6]
A Loews Theatres legal clerk, Barnard Duhan, spotted Gardner's photo in Tarr's studio. At the time, Duhan often posed as an MGM talent scout to meet girls, using the fact that MGM was a subsidiary of Loews. Duhan entered Tarr's and tried to get Gardner's number, but was rebuffed by the receptionist. Duhan made the comment, "Somebody should send her info to MGM", and the Tarrs did so immediately. Shortly after, Gardner, who at the time was a student at Atlantic Christian College, traveled to New York to be interviewed at MGM's New York office by Al Altman, head of MGM's New York talent department. With cameras rolling, he directed the 18-year-old to walk towards the camera, turn and walk away, then rearrange some flowers in a vase. He did not attempt to record her voice because her Southern accent made understanding her difficult for him. Louis B. Mayer, head of the studio, however, sent a telegram to Altman: "She can't sing, she can't act, she can't talk, she's terrific!"[6] She was offered a standard contract by MGM, and left school for Hollywood in 1941, with her sister Beatrice accompanying her. MGM's first order of business was to provide her with a speech coach, as her Carolina drawl was nearly incomprehensible to them.[7] 1942–1964[edit] Her first appearance in a feature film was as a walk on in the Norma Shearer vehicle We Were Dancing (1942). Fifteen bit parts later she received her first screen billing in Three Men in White (1944), a Dr. Kildare film in which she brings her mother to the hospital for treatment. After five years of bit parts, mostly at MGM, and many of them uncredited, Gardner came to prominence in the Mark Hellinger-produced smash-hit film noir The Killers (1946), playing the femme fatale Kitty Collins.
Gardner in The Killers (1946)
Gardner in "My Forbidden Past" (1951)
Gardner in Mogambo (1953)
Other films include The Hucksters (1947), Show Boat (1951), The Snows of Kilimanjaro (1952), Lone Star (1952), Mogambo (1953), The Barefoot Contessa (1954), Bhowani Junction (1956), The Sun Also Rises (1957), and On the Beach (1959). In The Barefoot Contessa, she played the role of doomed beauty Maria Vargas, a fiercely independent woman who goes from Spanish dancer to international film star with the help of a Hollywood director played by Humphrey Bogart, with tragic consequences.
Gardner at the premiere of The Barefoot Contessa in 1954
Gardner starred as Guinevere in Knights of the Round Table (1953), opposite actor Robert Taylor as Sir Lancelot. Indicative of her sophistication, she portrayed a duchess, a baroness, and other ladies of royal lineage in her films of the 1950s.
Off-camera, she could be witty and pithy, as in her assessment of director John Ford, who directed Mogambo ("The meanest man on earth. Thoroughly evil. Adored him!").[8]
She was billed between Charlton Heston and David Niven for 55 Days at Peking (1963), which was set in China during the Boxer Rebellion in 1900. The following year, she played her last major leading role in a critically acclaimed film, The Night of the Iguana (1964), based upon a Tennessee Williams play, and starring Richard Burton as an atheist clergyman and Deborah Kerr as a gentle artist traveling with her aged poet grandfather. John Huston directed the movie in Puerto Vallarta, Mexico, insisting on making the film in black and white – a decision he later regretted because of the vivid colors of the flora. Gardner received billing below Burton, but above Kerr. She was nominated for a BAFTA and a Golden Globe Award for her performance.
She next appeared again with Burt Lancaster, her co-star from The Killers, this time along with Kirk Douglas and Fredric March, in Seven Days in May (1964), a thriller about an attempted military takeover of the US government. Gardner played a former love interest of Lancaster's who could have been instrumental in Douglas's preventing a coup against the President of the United States.
1965–1986[edit] John Huston chose Gardner for the part of Sarah, the wife of Abraham (played by George C. Scott), in the Dino De Laurentiis film The Bible: In the Beginning..., which was released in 1966.[9] In a 1964 interview, she talked about why she accepted the role:
He [Huston] had more faith in me than I did myself. Now I'm glad I listened, for it is a challenging role and a very demanding one. I start out as a young wife, and age through various periods, forcing me to adjust psychologically to each age. It is a complete departure for me, and most intriguing. In this role, I must create a character, not just play one.[9] Two years later, in 1966, Gardner briefly sought the role of Mrs. Robinson in Mike Nichols' The Graduate (1967). She reportedly called Nichols and said, "I want to see you! I want to talk about this Graduate thing!" Nichols never seriously considered her for the part, preferring to cast a younger woman (Anne Bancroft was 35, while Gardner was 44), but he did visit her hotel, where he later recounted, "she sat at a little French desk with a telephone, she went through every movie star cliché. She said, 'All right, let's talk about your movie. First of all, I strip for nobody.'"[10]
Gardner moved to London in 1968, undergoing an elective hysterectomy to allay her worries of contracting the uterine cancer that had claimed the life of her mother. That year, she appeared in Mayerling, in which she played the supporting role of Austrian Empress Elisabeth of Austria, opposite James Mason as Emperor Franz Joseph I.
She appeared in a number of disaster films throughout the 1970s, notably Earthquake (1974) with Heston, The Cassandra Crossing (1976) with Lancaster, and the Canadian movie City on Fire (1979). She appeared briefly as Lillie Langtry at the end of The Life and Times of Judge Roy Bean (1972), and in The Blue Bird (1976). Her last movie was Regina Roma (1982). In the 1980s, she acted primarily on television, including the miniseries remake of The Long, Hot Summer and in a story arc on Knots Landing (both 1985).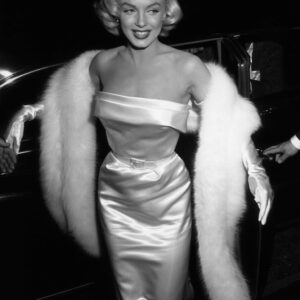 Full Bio:
Monroe found herself at the center of a scandal in March 1952, when she revealed that she had posed for nude pictures in 1949, which were now featured in a calendar.[86] The studio had learned of the upcoming publication of the calendar some weeks prior, and together with Monroe decided that to avoid damaging her career it was best to admit to them while stressing that she had been broke at the time.[87] The strategy gained her public sympathy and increased interest in her films, for which she was now receiving top-billing. In the wake of the scandal, Monroe was featured on the cover of Life as the "Talk of Hollywood" and gossip columnist Hedda Hopper declared her the "cheesecake queen" turned "box office smash".[88] Fox released three of Monroe's films —Clash by Night, Don't Bother to Knock and We're Not Married!— soon after to capitalize on the public interest.[89]
When Niagara was released in January 1953, women's clubs protested it as immoral, but it proved popular with audiences.[115] While Variety deemed it "clichéd" and "morbid", The New York Times commented that "the falls and Miss Monroe are something to see", as although Monroe may not be "the perfect actress at this point ... she can be seductive—even when she walks".[116][117] Monroe continued to attract attention by wearing revealing outfits, most famously at the Photoplay awards in January 1953, where she won the "Fastest Rising Star" award.[118] She wore a skin-tight gold lamé dress, which prompted veteran star Joan Crawford to publicly call her behavior "unbecoming an actress and a lady".[118]
While Niagara made Monroe a sex symbol and established her "look", her second film of 1953, the satirical musical comedy Gentlemen Prefer Blondes, cemented her screen persona as a "dumb blonde".[119] Based on Anita Loos' novel and its Broadway version, the film focuses on two "gold-digging" showgirls played by Monroe and Jane Russell. Monroe's role was originally intended for Betty Grable, who had been 20th Century-Fox's most popular "blonde bombshell" in the 1940s; Monroe was fast eclipsing her as a star who could appeal to both male and female audiences.[120] As part of the film's publicity campaign, she and Russell pressed their hand and footprints in wet concrete outside Grauman's Chinese Theatre in June.[121] Gentlemen Prefer Blondes was released shortly after and became one of the biggest box office successes of the year.[122] Crowther of The New York Times and William Brogdon of Variety both commented favorably on Monroe, especially noting her performance of "Diamonds Are a Girl's Best Friend"; according to the latter, she demonstrated the "ability to sex a song as well as point up the eye values of a scene by her presence".[123][124]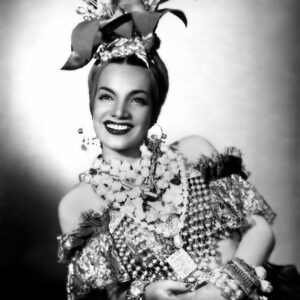 Full Bio:
Born
Maria do Carmo Miranda da Cunha
9 February 1909
Marco de Canaveses, Portugal
Died
5 August 1955 (aged 46)
Beverly Hills, California, U.S.
Resting place
São João Batista Cemetery, Rio de Janeiro, Brazil
Other names
The Brazilian Bombshell
The Chiquita Banana Girl
A Pequena Notável (in Brazil)
Education
Convent of Saint Therese of Lisieux
Occupation
Singer
dancer
actress
Years active
1928–1955
Spouse(s)
David Alfred Sebastian (m. 1947)
Relatives
Aurora Miranda (sister)
Cecilia Miranda (sister)
Musical career
Genres
Samba
Instruments
Vocals
Labels
RCA
Brunswick Records
EMI-Odeon
Decca Records
PolyGram
Website
www.carmenmiranda.com.br
Signature
During the 1930s Miranda performed on Brazilian radio and appeared in five Brazilian chanchadas, films celebrating Brazilian music, dance, and the country's carnival culture.[4] Hello, Hello Brazil! and Hello, Hello, Carnival! embodied the spirit of these early Miranda films. The 1939 musical Banana da Terra (directed by Ruy Costa) gave the world her "Baiana" image, inspired by African-Brazilians from the northeastern state of Bahia.[5]
In 1939, Broadway producer Lee Shubert offered Miranda an eight-week contract to perform in The Streets of Paris after seeing her at Cassino da Urca in Rio de Janeiro.[6] The following year she made her first Hollywood film, Down Argentine Way with Don Ameche and Betty Grable, and her exotic clothing and Lusophone accent became her trademark.[7] That year, she was voted the third-most-popular personality in the United States; she and her group, Bando da Lua, were invited to sing and dance for President Franklin D. Roosevelt.[8] In 1943, Miranda starred in Busby Berkeley's The Gang's All Here, which was noted for its musical numbers with the fruit hats that became her trademark. By 1945, she was the highest-paid woman in the United States.[9]
Miranda made 14 Hollywood films between 1940 and 1953. Although she was hailed as a talented performer, her popularity waned by the end of World War II. Miranda came to resent the stereotypical "Brazilian Bombshell" image she had cultivated, and attempted to free herself of it with limited success. She focused on nightclub appearances and became a fixture on television variety shows. Despite being stereotyped, Miranda's performances popularized Brazilian music and increased public awareness of Latin culture.[10] In 1941 she was the first Latin American star to be invited to leave her hand and footprints in the courtyard of Grauman's Chinese Theatre, and was the first South American honored with a star on the Hollywood Walk of Fame.[11] Miranda is considered the precursor of Brazil's 1960s Tropicalismo cultural movement.[12] A museum was built in Rio de Janeiro in her honor,[13] and in 1995 she was the subject of the documentary Carmen Miranda: Bananas is My Business.[14]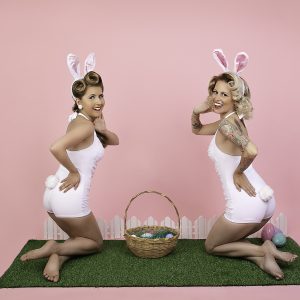 Short Bio:
Army Veteran Pinup Girl & Artist
Full Bio:
Published pinup model. Artist, creator, crafter, knitter, mom, trained hairdresser, and makeup artist. Pinups for Pitbulls ambassador, dog advocate, South Florida Volunteer Team Leader and 2020 Calendar Model (Miss October). Pinned Ladies 2020 Calendar Model (Miss April). Miss Peterson's Pinup 2019 (Peterson's Harley Davidson South Florida). ARMY VETERAN.
Short Bio:
I'm the cool kitten blown in from the far north . Minneapolis, MN is my home where I can be found kitten' around. Meow
Full Bio:
I'm the cool kitten blown in from the far north . Minneapolis, MN is my home where I can be found kitten' around. Meow
My puuurrfectly fun life consists of thrift store shopping, vintage store shopping, online shopping and spending time at the mall... Shopping. Dollface, Get my drift?
My favorite Vintage Pinup or Role Model from back in the day has always been Donna Reed. From 'It's a Wonderful Life' to the 'Donna Reed Show'. And of course her early career work as a pinup model. She was able to be successful and have her own TV show in a male dominated business. She carried herself with humility, style and grace. I can only hope I have a modicum of her class. 
My favorite Vintage vehicle is the Mercury Cougar because it's not only a cool car but I'm a bit of a cougar myself. Watch out, boys!  Meee-oow...