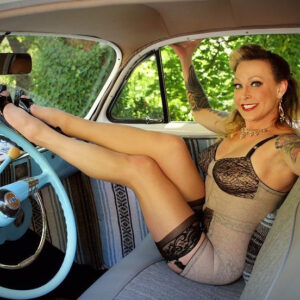 Short Bio
Artist, Pinup and Caregiver
Full Bio
Pinup Bio 2021
Mick Kitty Doll
I have been doing pinup modeling since 2020; when my best friend (Stephanie Shortcake) invited me onto one of her photo shoots & the rest is history. Couldn't have had more fun than that.
Published in Retro Lovely magazine and featured on various Instagram; I'm a self described "dork" who loves skulls, flames, cats and tats!
I'm a full time commission artist; lately pet portraits, vintage car paintings and tattoo drawings. I also spend my time as an elder caregiver.
Completely enamored with vintage couture, the lifestyle, the freedoms that pinup gives me, I'm incredibly awes with the other amazing hard working, beautiful and stunning ladies in the pinup world.
A huge PNW coffee lover, I totally dig: vintage shopping, tattoos, cruising cars, fast bikes & food. There is nothing better than lending myself to fantastic fundraising events that make a difference and will absolutely save someones life! (For example: for the Northwest Kidney Centers)
But my most favorite things; are my longest kept best friends, my incredibly hard working construction honey who makes it all possible for me, and meeting new fun likeminded people!
Send Message to listing owner