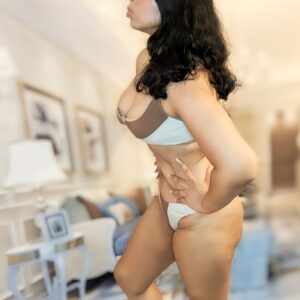 Short Bio
I am a super giggly nerd. I've lost over 100 lbs, rocked a few runways to show with hard work and dedication anything is possible.
Full Bio
I am a super giggly nerd. I've lost over 100 lbs, rocked a few runways to show with hard work and dedication anything is possible. I also co-host a few weekly podcasts including the Morphin Network and the Buttery Show.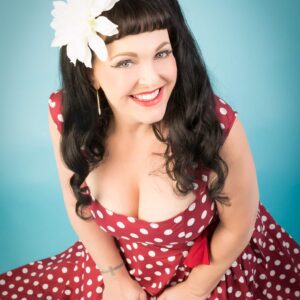 Short Bio
I'm the cool kitten blown in from the far north . Minneapolis, MN is my home where I can be found kitten' around. Meow
Full Bio
I'm the cool kitten blown in from the far north . Minneapolis, MN is my home where I can be found kitten' around. Meow
My puuurrfectly fun life consists of thrift store shopping, vintage store shopping, online shopping and spending time at the mall... Shopping. Dollface, Get my drift?
My favorite Vintage Pinup or Role Model from back in the day has always been Donna Reed. From 'It's a Wonderful Life' to the 'Donna Reed Show'. And of course her early career work as a pinup model. She was able to be successful and have her own TV show in a male dominated business. She carried herself with humility, style and grace. I can only hope I have a modicum of her class. 
My favorite Vintage vehicle is the Mercury Cougar because it's not only a cool car but I'm a bit of a cougar myself. Watch out, boys!  Meee-oow...
First title Ms. Memory Lane 2022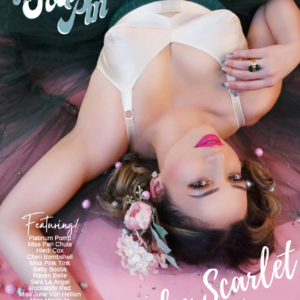 Full Bio
A lover of all things glam. About a year and a half ago I was introduced to this incredible world through my hair and makeup craft. With over 12 years in the beauty industry, I've worked with multiple designers, celebrities, and my work has been published both internationally and domestic, In addition I have a bridal team in multiple cities. My story with Pinup started when I partnered with Glitter Glam Studios for a session and we quickly became her official hair and makeup team. It's been an incredible journey, with multiple magazine spreads and cover, fulfilling a dream to become a model. Fully immersed, I now have a Retro hair and makeup team with goals to keep expanding and become the go to glam at all pinup events, we have had the honor to work with published pinups and our work can be seen in Retro Lovely, Modern Day PinUp, Bombshell, Holidays, NYLON, and so much more.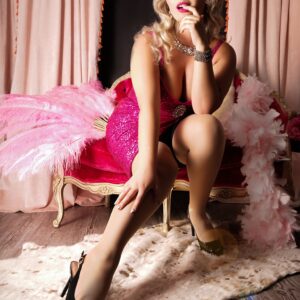 Full Bio
Hey doll! My name is Lucious Lady Libra. I'm originally from New York but am now living in sunny Orlando! I have a passion for all things old Hollywood and classic glamour. I love tattoos and astrology and am very excited to be starting this pinup adventure!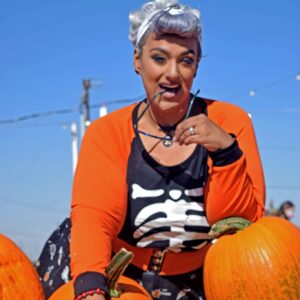 Short Bio
Miss Mandy Von Munster pinup with lots of class and sass
Full Bio
Hi, I'm Mandy Von Munster mother of twins and small business owner of Panda's Mask. I am also a proud member of Pinups with Faith. I'm a body positive believer, because pinups come in all shapes, sizes, and colors. I'm a little bit classic pinup and a little bit gothabilly.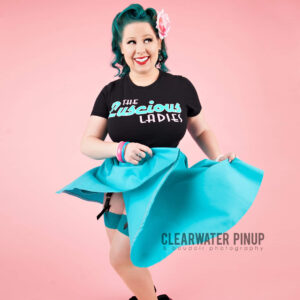 Short Bio
Hi! I'm Mayzie! I'm a vintage/retro pinup model based in Tampa Bay, Florida
Full Bio
I have always had a love of vintage, and with finding the pinup/rockabilly lifestyle, I feel like I have finally found my place in this crazy world!
I'm a mom of six - 3 human kids and 3 dachshund puppies! When I'm not busy at home or modeling, I'm also a professional photographer. My Husband & I own Clearwater Pinup and Boudoir Photography.
Why "Mayzie"?
I am a HUGE Dr. Seuss fan. I have always loved all of his books - I grew up loving thim & have passed the love down to my children. I really wanted to use a name from one of his books, but unfortunately, there were only a handful of names I thought would fit for a pinup name. I ultimately settled on "Mayzie" from "Daisy-Head Mayzie" and "Mayzie La Bird"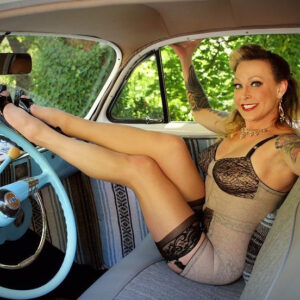 Short Bio
Artist, Pinup and Caregiver
Full Bio
Pinup Bio 2021
Mick Kitty Doll
I have been doing pinup modeling since 2020; when my best friend (Stephanie Shortcake) invited me onto one of her photo shoots & the rest is history. Couldn't have had more fun than that.
Published in Retro Lovely magazine and featured on various Instagram; I'm a self described "dork" who loves skulls, flames, cats and tats!
I'm a full time commission artist; lately pet portraits, vintage car paintings and tattoo drawings. I also spend my time as an elder caregiver.
Completely enamored with vintage couture, the lifestyle, the freedoms that pinup gives me, I'm incredibly awes with the other amazing hard working, beautiful and stunning ladies in the pinup world.
A huge PNW coffee lover, I totally dig: vintage shopping, tattoos, cruising cars, fast bikes & food. There is nothing better than lending myself to fantastic fundraising events that make a difference and will absolutely save someones life! (For example: for the Northwest Kidney Centers)
But my most favorite things; are my longest kept best friends, my incredibly hard working construction honey who makes it all possible for me, and meeting new fun likeminded people!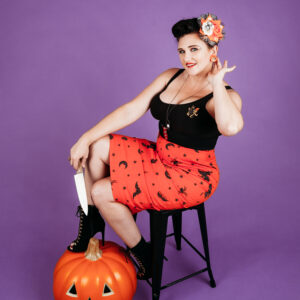 Short Bio
Beneath the victory rolls, red lipstick and crinoline lives an old soul surviving in a modern world.
Full Bio
Dottie was born in Long Island, NY but grew up in Tampa, Florida. Her grandmother and pinup namesake was always her biggest supporter growing up and would tell her stories of her glamorous life in Manhattan as they would play dress up in her rhinestones and furs. This is where Dottie's love for the vintage and classic lifestyle began. She started modeling in 2012 and really found her passion in the pinup world as it brought her back to such fond memories. In her free time she volunteers for The Bomber Girls and she loves antiquing and going to yard sales.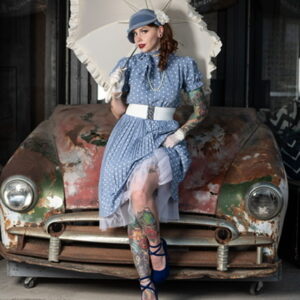 Short Bio
Pinup. Artist. RN. Mom. Friend. Lover.
Full Bio
Pinup style and culture fascinated me for many years before I became brave enough to dive in, and now I'm so grateful I did. Additionally, modeling has opened up a new avenue of creativity to explore as an artist. I love crafting looks, sewing and altering clothes, playing with trying to perfect new makeup looks, and collaborating with other inspiring creatives.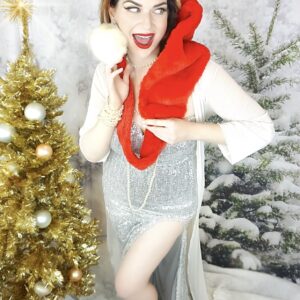 Short Bio
Miss Maydee Belle; Native Floridian Pin Up
Full Bio
Miss Maydee Belle is new to Pin Up modeling.