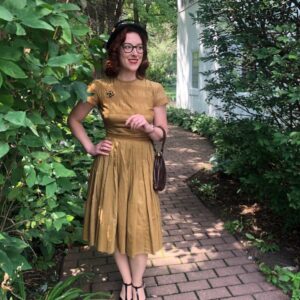 Short Bio
Loves cruising in our classic car, yoga, cooking, and black coffee.
Full Bio
I began dressing in vintage clothes just for special events, but in 2018 I made the leap and went whole hog and started wearing vintage and reproduction everyday. I love how wearing vintage and the lifestyle brings so many people together and the opportunity to meet new people.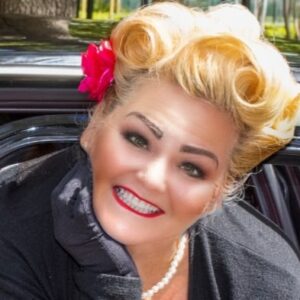 Short Bio
I'm in my 2nd year of doing pin up and I'm enjoying every opportunity that I get To share my knowledge and abilities with others I am looking forward to what the next year has to bring I enjoy seeing others happy and smiles and hugs are medicine and smiles are contagious I try to remember to pay it all forward by me just being me perfectly unique
Full Bio
Hi! My friends call me Miss Pink Tink. My nickname comes from the color and singer Pink and my Disney hero Tinkerbell. I like to live life to the fullest no matter how modified... Just keep swimming! I feel my music and play with passion. I have cold hands but a warm heart and I love hard. I love to travel to see new places and recently traveled through the Prarie lands. I enjoy supporting local music, racing go-karts, boxing, martial arts, the beach, car shows and the Pontiac Firebird is my favorite. I'm short and sassy and a little smart assey but most of all I just love being me and enjoying my new pin-up adventure. I have met some beautiful ladies that have supported and have embraced me and all of my curves.. after recently losing 158 pounds and now I look forward to going shopping! BRING ON THE LIPSTICKS AND LASHES! I am looking forward to meeting more of you Ladies and Gents. Squishy hugs, Miss Pink Tink 💗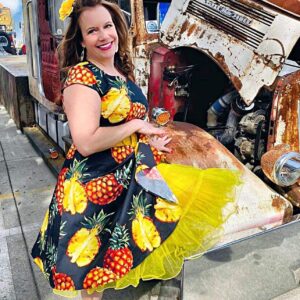 Short Bio
Just a small town girl loving life in a pinup world.
Full Bio
Hey, all you beauties! I am nurse, a lover of travel, and always out for some fun and adventure. I am known as Miss Stop Your Heart. A nurse by day, and then it's all play; my turn to decide which hearts to resuscitate that I stopped with my pinup lifestyle. Fairly new to the pinup world, late 2021, I have fallen in love with the sisterhood, styles of the era and all around fun it brings. I am a part of Pinup & Pumps and could not ask for a better girl gang to be a part of! Live, Laugh, Love and Pinup!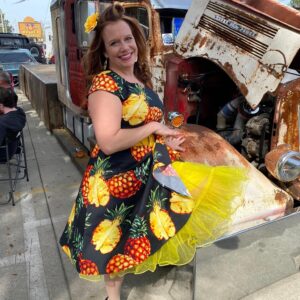 Full Bio
Restarting hearts by day as a nurse and stopping them with pinup.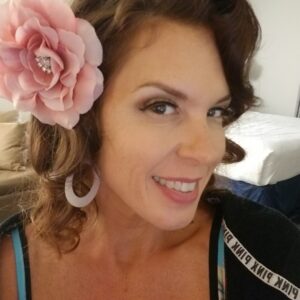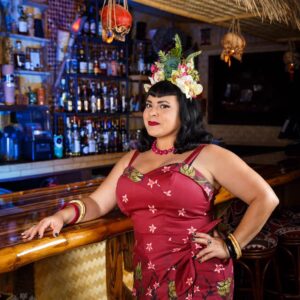 Full Bio
A Florida Native, Robby Vamps has had an affinity for all things vintage, pinup and Rockabilly since the early 2000's.
Combining a darker aesthetic with pinup style this edgy gal enjoys exploring haunted places, strolls through the cemetery and is the Queen of Halloween.
With a sexy, spooky sensibility and a love of black velvet and lace, Robby Vamps also appreciates a good laugh and is always up for an exciting adventure.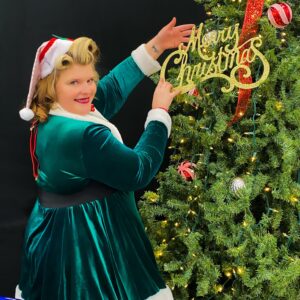 Full Bio
Hi y'all, I'm Rowdy Vixen!! I'm a mom of 2 beautiful Vixenettes!! I love all things Pinup! I'm the stylist for PinUps and Pumps and love making our Pinup models feel beautiful!!! I have curves and love that I can flaunt them with my Vixen ways!!! This Pinup loves to laugh and have a great time!!! I found how to appreciate my body through this Pinup journey!! Can't wait to see what the future holds!! Won't you join me?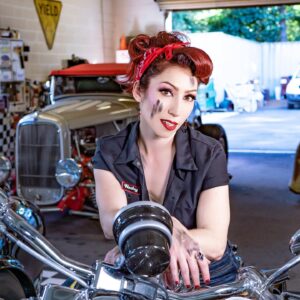 Short Bio
NorCal's Spunky Spooky Ukulele playing Pinup
Full Bio
Ruby Stardust is a Bay Area native and loves all things retro & pinup, spooky/horror movies, and food. Ruby also plays ukulele & often does her own unique spook-ulele covers, rewriting lyrics from popular songs to sing about her favorite horror movies. She recently launched the podcast Pinups & Poltergeists, to discuss all things pinup, retro, spooky and horror related. Ruby is the winner of Miss Cruisin' North Queen 2020 and was featured as a cover model for Retro Lovely Halloween edition, vol. 16. Ruby is also a member of Nor Cal Pinup Girls.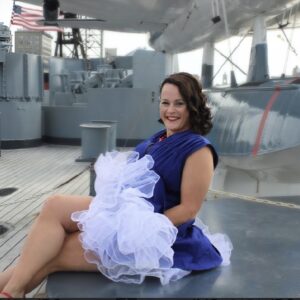 Full Bio
Part of a wonderful small town Pin-up group, who share the same love of pin-ups, classic cars and having fun!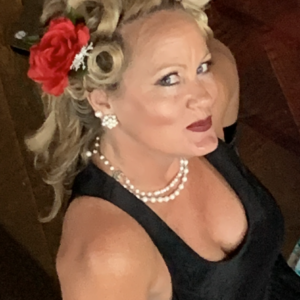 Short Bio
I got involved in Pin Up 5 years ago with my sister. I am just having fun and getting in touch with my inner playful side.
Full Bio
I was raised in the 90's, with Skateboarding, tattoos and Punk Rock music at an early age. I love the ocean, surfing, boating, paddle boarding, fishing snowboarding and collecting shells. I love thrift and vantage shopping, I enjoy the hunt of finding unwanted items and giving them life again. The Pin Up lifestyle feels natural to me.