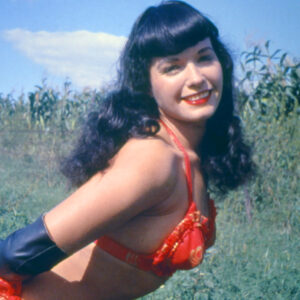 Full Bio
Bettie Page
Bettie Page
Born
Betty Mae Page
April 22, 1923
Nashville, Tennessee, U.S.
Died
December 11, 2008 (aged 85)
Los Angeles, California, U.S.
Resting place
Westwood Village Memorial Park Cemetery
34.0583333°N 118.4408333°W
Nationality
American
Alma mater
Peabody College (part of Vanderbilt University)
Multnomah University
Occupation
Model
Playboy centerfold appearance
January 1955
Preceded by
Terry Ryan
Succeeded by
Jayne Mansfield
Personal details
Measurements
Bust: 36 in (91 cm)
Waist: 23 in (58 cm)
Hips: 35 in (89 cm)
Height
5 ft 5.5 in (166.4 cm)[
Betty Mae Page (April 22, 1923 – December 11, 2008), known professionally as Bettie Page, was an American model who gained a significant profile in the 1950s for her pin-up photos.[2][3] Often referred to as the "Queen of Pinups", her shoulder-length jet-black hair, blue eyes, and trademark bangs have influenced artists for generations.
A native of Nashville, Tennessee, Page lived in California in her early adult years before moving to New York City to pursue work as an actress. There, she found work as a pin-up model, and posed for dozens of photographers throughout the 1950s. Page was "Miss January 1955", one of the earliest Playmates of the Month for Playboy magazine. "I think that she was a remarkable lady, an iconic figure in pop culture who influenced sexuality, taste in fashion, someone who had a tremendous impact on our society," said Playboy founder Hugh Hefner to the Associated Press in 2008.[4]
In 1959, Page converted to evangelical Christianity and worked for Billy Graham,[5] studying at Bible colleges in Los Angeles and Portland, Oregon, with the intent of becoming a missionary. The latter part of Page's life was marked by depression, violent mood swings, and several years in a state psychiatric hospital suffering from paranoid schizophrenia.[6][7][8] After years of obscurity, she experienced a resurgence of popularity in the 1980s.
Modeling career[edit]
Discovery and early work[edit]
In late 1947, Page moved to New York City, where she hoped to find work as an actress. She supported herself by working a secretarial job at the American Bread Company, near Penn Station.[21] Within days she became the victim of a sexual assault by a group of men, and retreated home to Nashville, where she briefly worked for the L & N Railroad.[22] Within weeks, she returned to New York, becoming secretary to a real-estate developer and an insurance broker who shared offices in the Eastern Airlines Building at Rockefeller Plaza.[23]
In 1950, while walking alone along the Coney Island shore, Bettie met NYPD Officer Jerry Tibbs, who was an avid photographer, and he gave Bettie his card. He suggested she'd make a good pin-up model, and in exchange for allowing him to photograph her, he'd help make up her first pin-up portfolio, free of charge.[13] It was Officer Tibbs who suggested to Bettie that she style her hair with bangs in front, to keep light from reflecting off her high forehead when being photographed.[6] Bangs soon became an integral part of her distinctive look.
In late-1940s America, "camera clubs" were formed to circumvent laws restricting the production of nude photos. These camera clubs existed ostensibly to promote artistic photography, but in reality, many were merely fronts for the making of pornography. Page entered the field of "glamour photography" as a popular camera club model, working initially with photographer Cass Carr.[13] Her lack of inhibition in posing made her a hit, and her name and image became quickly known in the erotic photography industry. In 1951, Bettie's image appeared in men's magazines such as Wink, Titter, Eyefull and Beauty Parade.[24]
Early 1950s to 1957: Irving Klaw; film work[edit]
Page appearing in S&M and bondage reels by Irving and Paula Klaw
A video featuring Bettie Page as a slave, lashing out against her Mistress and then getting spanked, 1955
From late 1951 or early 1952[25] through 1957, she posed for photographer Irving Klaw for mail-order photographs with pin-up and BDSM themes, making her the first famous bondage model. Klaw also used Page in dozens of short, black-and-white 8mm and 16mm "specialty" films, which catered to specific requests from his clientele. These silent one-reel featurettes showed women clad in lingerie and high heels, acting out fetishistic scenarios of abduction, domination, and slave-training; bondage, spanking, and elaborate leather costumes and restraints were included periodically. Page alternated between playing a stern dominatrix, and a helpless victim bound hand and foot.
Klaw also produced a line of still photos taken during these sessions. Some have become iconic images, such as his highest-selling photo of Page—shown gagged and bound in a web of ropes, from the film Leopard Bikini Bound. Although these "underground" features had the same crude style and clandestine distribution as the pornographic "stag" films of the time, Klaw's all-female films (and still photos) never featured any nudity or explicit sexual content. Commenting on the bondage photos and the reputation they afforded her, Page said retrospectively:
They keep referring to me in the magazines and newspapers and everywhere else as the "Queen of Bondage." The only bondage posing I ever did was for Irving Klaw and his sister Paula. Usually every other Saturday he had a session for four or five hours with four or five models and a couple of extra photographers, and in order to get paid you had to do an hour of bondage. And that was the only reason I did it. I never had any inkling along that line. I don't really disapprove of it; I think you can do your own thing as long as you're not hurting anybody else — that's been my philosophy ever since I was a little girl. I never looked down my nose at it. In fact, we used to laugh at some of the requests that came through the mail, even from judges and lawyers and doctors and people in high positions. Even back in the '50s they went in for the whips and the ties and everything else.[26]
In 1953, Page took acting classes at the Herbert Berghof Studio, which led to several roles on stage and television. She appeared on The United States Steel Hour and The Jackie Gleason Show.[13] Her Off-Broadway productions included Time is a Thief and Sunday Costs Five Pesos. Page acted and danced in the feature-length burlesque revue film Striporama directed by Jerald Intrator in which she was given a brief speaking role. She then appeared in two more burlesque films by Irving Klaw (Teaserama and Varietease). These featured exotic dance routines and vignettes by Page and well-known striptease artists Lili St. Cyr and Tempest Storm. All three films were mildly risqué, but none showed any nudity or overtly sexual content.
In 1954, during one of her annual vacations to Miami, Florida, Page met photographers Jan Caldwell, H. W. Hannau and Bunny Yeager.[13] At that time, Page was the top pin-up model in New York. Yeager, a former model and aspiring photographer, signed Page for a photo session at the now-closed wildlife park Africa USA in Boca Raton, Florida. The "Jungle Bettie" photographs from this shoot are among her most celebrated. They include nude shots with a pair of cheetahs named Mojah and Mbili. Page herself made the leopard-skin-patterned jungle girl outfit she wore, along with much of her lingerie. A collection of the Yeager photos, and Klaw's, were published in the book Bettie Page Confidential (St. Martin's Press, 1994).
After Yeager sent shots of Page to Playboy founder Hugh Hefner, he selected one to use as the Playmate of the Month centerfold in the January 1955 issue of the two-year-old magazine. The famous photo shows Page, wearing only a Santa hat, kneeling before a Christmas tree holding an ornament and playfully winking at the camera. In 1955, Page won the title "Miss Pinup Girl of the World".[13] She also became known as "The Queen of Curves" and "The Dark Angel". While pin-up and glamour models frequently have careers measured in months, Page was in demand for several years, continuing to model until 1957.[3]
Although she frequently posed nude, she never appeared in scenes with explicit sexual content. In 1957, Page gave "expert guidance" to the FBI regarding the production of "flagellation and bondage pictures" in Harlem.[27]