Full Bio:
I grew up listening to oldies that my father's band and him played. Id help my grandfather in the garage where he built antique cars from the frame up. I always felt like i belonged back in an older era. Family values meant something, life was simpler, music was amazing, clothing/fashion was classy and seductive, yet not provocative. I have a perchant for all things vintage, along with what i grew up with led me to doing pinup. Pinup is my way of expressing my true self and empowering other women to so as well. I grew up being bullied and picked on; so when I got older I was very insecure about myself then I found pinup.
Full Bio:
Hey, Sugar! My name is Billie Jayne DeVille. I was born and raised a Georgia Peach but I now
call South Carolina my home. I'm a full-time artist/pinstriper and a total sucker for whitewall
tires and big tailfins! When I'm not painting, you can find me cruising in my 53 Chevy, my 55
Cadillac or in the shop getting down and dirty with my 58 Plymouth restoration project!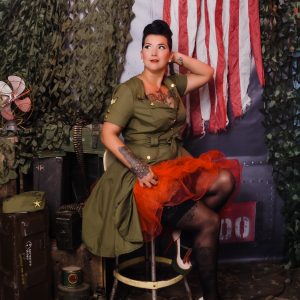 Full Bio:
I was born in Indiana but moved to Tennessee in my late teens. My mother introduced me to Marilyn Monroe at a very young age and I have been enamored with everything pin-up, vintage, and retro ever since. I started pin-up modeling in 2019 with my best friend and photographer Pamela Claytor. I have been very lucky to be a part of her vision and have her expertise along the way. I have been published 7 times so far and have 5 more publications coming up!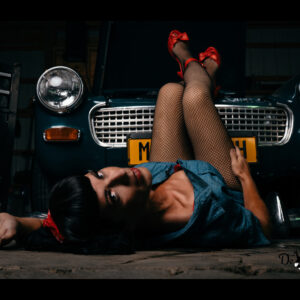 Short Bio:
Meg De'Lish is an upstate New York pin up, who's mission is to instill confidence and body positivity in women of all shapes, sizes, ages, and ability while raising money for worth causes.
Full Bio:
My name is Meg De'Lish, I have been a photographer for most of my life and a Pin Up model for about three years now. I believe the getting involved in causes you believe is an important part of being a pin up and an example for others. I do work to raise money and awareness with veteran's groups and The Rolphie Fund, a charity that helps children in economic need. I also believe that only how beautiful you are matters. One of my biggest inspirations, Dita Von Teese, is older than me and she is still radiant, inspiring, and beautiful. I'm sure she will be for decades to come, and I want to be right there with her pushing the notion that beauty standards have anything to do with age. When I am older I will challenge the concept that only if you are young, in shape and have great skin can you be seen as beautiful, confident, and sexy. Women of all shapes and sizes are beautiful and sexy. To be beautiful, confident and sexy takes inner beauty, which should be a what women and girls strive for... being beautiful from the inside out. Remember, I'm De'Lish... and so are you.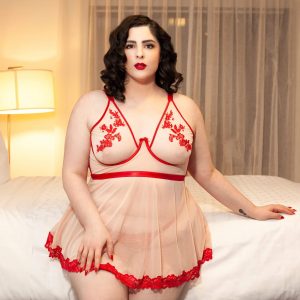 Short Bio:
Montreal's Curvy Cat
Full Bio:
Miss Meow, Montreal's curvy cat, is an internationally published plus size model, event producer, and whisky loving bombshell! With a classic shake of her hips and a teasing gleam in her eye, she'll make sure you purr with pleasure..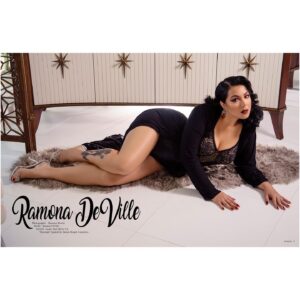 Short Bio:
Classy Chassy with a Kiss of Sassy
Full Bio:
Internationally Published Pin-up Model. Ramona Deville was born in New Jersey, raised in Miami and of Colombian descent. She loves Retro Vintage Americana culture from the 30s to the early 60s. She likes rockabilly, psychobilly, classic cars, classic monsters/horror, and Pinball. She is president of the Luscious Ladies South Florida Chapter, the largest Pin-up group worldwide. Her inspirations include Bettie Page, Vampira, and the hostess with the mostess, mistress of dark, Elvira and is a proud owner of her pinball machine , Elvira and the Party Monsters.
*Miss Iron & Clematis 2014 *Miss Old Soul Young Blood 2014 *Cover model Pinup Worship Magazine December 2018 Holiday issue *Published over 40 times in Retro Magazines such as Retro Lovely, Pinup Kulture, Bombshell Magazine in UK, Pinup Perfection, Atomic Bombshells, Pinup America, Garters and Grill, Pinups and Hotrods, Pink Elephant.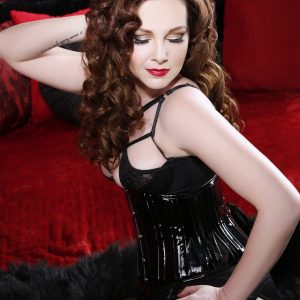 Full Bio:
Hello I am a full time mother and an aspiring makeup artist and pinup model . I definitely enjoy movie classics and vintage style .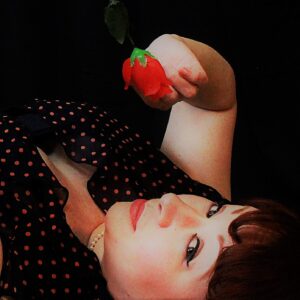 Short Bio:
Ginger Beginner Pin Up in the PNW
Full Bio:
I have always loved the pin up history and the fashion. I am just starting out on my pin up journey, and I am currently and active member of the Capital City Dolls. I hope to branch out more in order to meet and contribute to the positivity of the culture.
Short Bio:
I'm the cool kitten blown in from the far north . Minneapolis, MN is my home where I can be found kitten' around. Meow
Full Bio:
I'm the cool kitten blown in from the far north . Minneapolis, MN is my home where I can be found kitten' around. Meow
My puuurrfectly fun life consists of thrift store shopping, vintage store shopping, online shopping and spending time at the mall... Shopping. Dollface, Get my drift?
My favorite Vintage Pinup or Role Model from back in the day has always been Donna Reed. From 'It's a Wonderful Life' to the 'Donna Reed Show'. And of course her early career work as a pinup model. She was able to be successful and have her own TV show in a male dominated business. She carried herself with humility, style and grace. I can only hope I have a modicum of her class. 
My favorite Vintage vehicle is the Mercury Cougar because it's not only a cool car but I'm a bit of a cougar myself. Watch out, boys!  Meee-oow...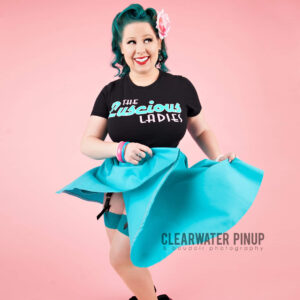 Short Bio:
Hi! I'm Mayzie! I'm a vintage/retro pinup model based in Tampa Bay, Florida
Full Bio:
I have always had a love of vintage, and with finding the pinup/rockabilly lifestyle, I feel like I have finally found my place in this crazy world!
I'm a mom of six - 3 human kids and 3 dachshund puppies! When I'm not busy at home or modeling, I'm also a professional photographer. My Husband & I own Clearwater Pinup and Boudoir Photography.
Why "Mayzie"?
I am a HUGE Dr. Seuss fan. I have always loved all of his books - I grew up loving thim & have passed the love down to my children. I really wanted to use a name from one of his books, but unfortunately, there were only a handful of names I thought would fit for a pinup name. I ultimately settled on "Mayzie" from "Daisy-Head Mayzie" and "Mayzie La Bird"