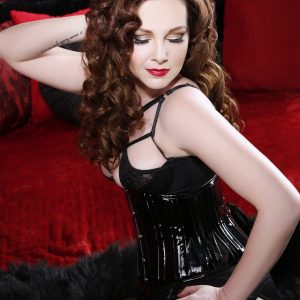 Full Bio:
Hello I am a full time mother and an aspiring makeup artist and pinup model . I definitely enjoy movie classics and vintage style .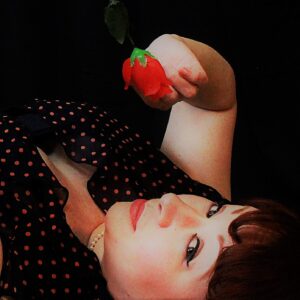 Short Bio:
Ginger Beginner Pin Up in the PNW
Full Bio:
I have always loved the pin up history and the fashion. I am just starting out on my pin up journey, and I am currently and active member of the Capital City Dolls. I hope to branch out more in order to meet and contribute to the positivity of the culture.
Short Bio:
I'm the cool kitten blown in from the far north . Minneapolis, MN is my home where I can be found kitten' around. Meow
Full Bio:
I'm the cool kitten blown in from the far north . Minneapolis, MN is my home where I can be found kitten' around. Meow
My puuurrfectly fun life consists of thrift store shopping, vintage store shopping, online shopping and spending time at the mall... Shopping. Dollface, Get my drift?
My favorite Vintage Pinup or Role Model from back in the day has always been Donna Reed. From 'It's a Wonderful Life' to the 'Donna Reed Show'. And of course her early career work as a pinup model. She was able to be successful and have her own TV show in a male dominated business. She carried herself with humility, style and grace. I can only hope I have a modicum of her class. 
My favorite Vintage vehicle is the Mercury Cougar because it's not only a cool car but I'm a bit of a cougar myself. Watch out, boys!  Meee-oow...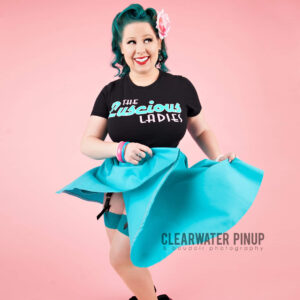 Short Bio:
Hi! I'm Mayzie! I'm a vintage/retro pinup model based in Tampa Bay, Florida
Full Bio:
I have always had a love of vintage, and with finding the pinup/rockabilly lifestyle, I feel like I have finally found my place in this crazy world!
I'm a mom of six - 3 human kids and 3 dachshund puppies! When I'm not busy at home or modeling, I'm also a professional photographer. My Husband & I own Clearwater Pinup and Boudoir Photography.
Why "Mayzie"?
I am a HUGE Dr. Seuss fan. I have always loved all of his books - I grew up loving thim & have passed the love down to my children. I really wanted to use a name from one of his books, but unfortunately, there were only a handful of names I thought would fit for a pinup name. I ultimately settled on "Mayzie" from "Daisy-Head Mayzie" and "Mayzie La Bird"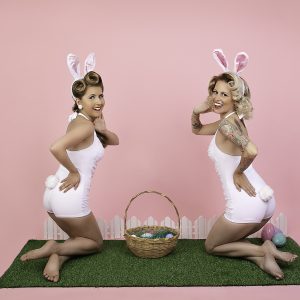 Short Bio:
Army Veteran Pinup Girl & Artist
Full Bio:
Published pinup model. Artist, creator, crafter, knitter, mom, trained hairdresser, and makeup artist. Pinups for Pitbulls ambassador, dog advocate, South Florida Volunteer Team Leader and 2020 Calendar Model (Miss October). Pinned Ladies 2020 Calendar Model (Miss April). Miss Peterson's Pinup 2019 (Peterson's Harley Davidson South Florida). ARMY VETERAN.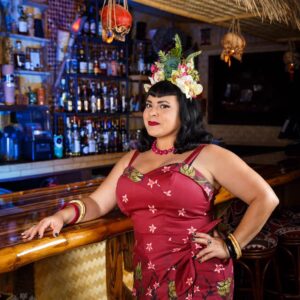 Full Bio:
A Florida Native, Robby Vamps has had an affinity for all things vintage, pinup and Rockabilly since the early 2000's.
Combining a darker aesthetic with pinup style this edgy gal enjoys exploring haunted places, strolls through the cemetery and is the Queen of Halloween.
With a sexy, spooky sensibility and a love of black velvet and lace, Robby Vamps also appreciates a good laugh and is always up for an exciting adventure.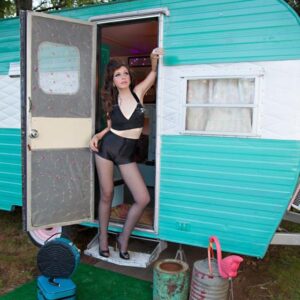 Short Bio:
♥ Shellie Schmals loves Retro! ♥
Pinup * Burlesque // Performer & Producer
Full Bio:
Shellie Schmals hearts the arts!! She's a pin up lovin' - microphone holdin' - event hustlin' - dynamo, who can be seen around town mixing up the worlds of film, art, fashion and comedy.
As a talent wrangler and producer/emcee, she's involved in many projects including Roxie Roz burlesque, Small Secret Things, #TheABCDShow; has collaborated as an emcee or worked on stage crew for productions by Syrens of the South, Ariel Allegro, Evangeline Laveau, The FANDom Nerdlesque, Sadie Hawkins, Glitter Goddess Productions, Trashy Diva, Trixie Minx Productions; and is a proud member of the Georgia Pinup Posse and Women in Film & Television Atlanta, where Shellie sits on the Board of Directors as Secretary, coordinates the WIFTA panels at Dragon Con 2020 (Film Track), and co-chairs the annual #WIFTAConfab (short film & talent showcase).
Shellie's column, "My Adventures in Burlesque" debuted in the March 2020 issue of The Georgia Hollywood Review.
As an internationally published pinup, Shellie has been featured in:
* VoyageATL, Art & Life section
* Cat's Pajamas Magazine
* Georgia Pinup Posse Calendar, 2018, 2019, 2020
* Tres' Jolie Magazine
* DeVoe Magazine (Cover Model)
* The Cat's Meow Magazine
* Classy Keen Issue #2
* Girls of Relapse Calendar 2012, 2013
* Vintage Vixens Magazine, Premiere Issue
* The Cat's Meow Magazine: Pre-Furred Pin-up
* Jezebel Magazine: "Street Style" Featured Model
* Atlanta Street Fashion: Featured Model
* Portraits By Shannon Jenkins: Featured Model
* The Cat's Meow Magazine: Featured Pin-Up
* ScoutMob Atlanta: Creative Eye
* CommonCreativ Magazine: 50 Most Creative Atlantans
* ATLRetro.com: Kool Kat of the Week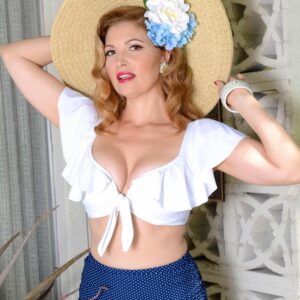 Full Bio:
The Parisian Hostess Pin Up has been living the Pin Up lifestyle for the past 5 years while creating the Handmade Apothecary Brand; The Parisian Hostess, providing Essential Oil products to those that look for a healthier more natural approach to living. Now in its 6th year of business, you can find The Parisian Hostess products in over 40 Boutiques and Spas in the United States.
Editor of the Modern Day Pin Up Magazine - the magazine every Pin Up will be reading!
Creator of Pin Up Database - the Official International Who's Who of the Pin Up World
Creator of Retro Wire - the most comprehensive international Hub for the Pin Up, Retro and Rockabilly Lifestyle
Creator of the Bombshell Academy Bootcamp  - where she teaches women how to release their inner Bombshell through hair, makeup, posing and photo shoots.
Television:
TV Norge- Alt for Norge Reality TV Show Season 10: Cast
ESPN- Making the Squad: Miami Dolphins Cheerleader: Cheerleader
American Forces Network- Outside the Gate: Travel Series Host
American Forces Network- Creative Commissary Cooking: Series Host
Bookings:
The Parisian Hostess Pin Up is available for Photoshoots, Hosting & Teaching Engagements. Please send an email for more information.