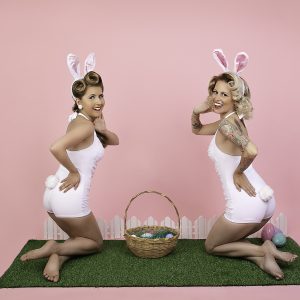 Short Bio:
Army Veteran Pinup Girl & Artist
Full Bio:
Published pinup model. Artist, creator, crafter, knitter, mom, trained hairdresser, and makeup artist. Pinups for Pitbulls ambassador, dog advocate, South Florida Volunteer Team Leader and 2020 Calendar Model (Miss October). Pinned Ladies 2020 Calendar Model (Miss April). Miss Peterson's Pinup 2019 (Peterson's Harley Davidson South Florida). ARMY VETERAN.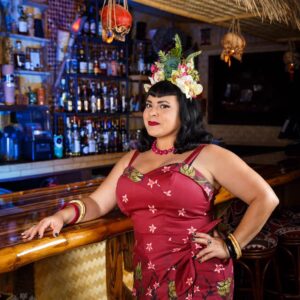 Full Bio:
A Florida Native, Robby Vamps has had an affinity for all things vintage, pinup and Rockabilly since the early 2000's.
Combining a darker aesthetic with pinup style this edgy gal enjoys exploring haunted places, strolls through the cemetery and is the Queen of Halloween.
With a sexy, spooky sensibility and a love of black velvet and lace, Robby Vamps also appreciates a good laugh and is always up for an exciting adventure.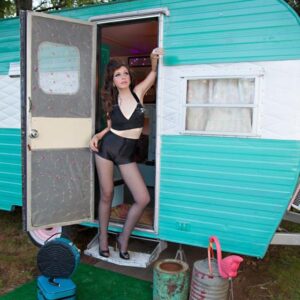 Short Bio:
♥ Shellie Schmals loves Retro! ♥
Pinup * Burlesque // Performer & Producer
Full Bio:
Shellie Schmals hearts the arts!! She's a pin up lovin' - microphone holdin' - event hustlin' - dynamo, who can be seen around town mixing up the worlds of film, art, fashion and comedy.
As a talent wrangler and producer/emcee, she's involved in many projects including Roxie Roz burlesque, Small Secret Things, #TheABCDShow; has collaborated as an emcee or worked on stage crew for productions by Syrens of the South, Ariel Allegro, Evangeline Laveau, The FANDom Nerdlesque, Sadie Hawkins, Glitter Goddess Productions, Trashy Diva, Trixie Minx Productions; and is a proud member of the Georgia Pinup Posse and Women in Film & Television Atlanta, where Shellie sits on the Board of Directors as Secretary, coordinates the WIFTA panels at Dragon Con 2020 (Film Track), and co-chairs the annual #WIFTAConfab (short film & talent showcase).
Shellie's column, "My Adventures in Burlesque" debuted in the March 2020 issue of The Georgia Hollywood Review.
As an internationally published pinup, Shellie has been featured in:
* VoyageATL, Art & Life section
* Cat's Pajamas Magazine
* Georgia Pinup Posse Calendar, 2018, 2019, 2020
* Tres' Jolie Magazine
* DeVoe Magazine (Cover Model)
* The Cat's Meow Magazine
* Classy Keen Issue #2
* Girls of Relapse Calendar 2012, 2013
* Vintage Vixens Magazine, Premiere Issue
* The Cat's Meow Magazine: Pre-Furred Pin-up
* Jezebel Magazine: "Street Style" Featured Model
* Atlanta Street Fashion: Featured Model
* Portraits By Shannon Jenkins: Featured Model
* The Cat's Meow Magazine: Featured Pin-Up
* ScoutMob Atlanta: Creative Eye
* CommonCreativ Magazine: 50 Most Creative Atlantans
* ATLRetro.com: Kool Kat of the Week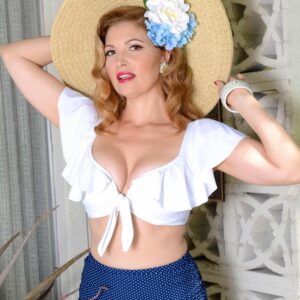 Full Bio:
The Parisian Hostess Pin Up has been living the Pin Up lifestyle for the past 5 years while creating the Handmade Apothecary Brand; The Parisian Hostess, providing Essential Oil products to those that look for a healthier more natural approach to living. Now in its 6th year of business, you can find The Parisian Hostess products in over 40 Boutiques and Spas in the United States.
Editor of the Modern Day Pin Up Magazine - the magazine every Pin Up will be reading!
Creator of Pin Up Database - the Official International Who's Who of the Pin Up World
Creator of Retro Wire - the most comprehensive international Hub for the Pin Up, Retro and Rockabilly Lifestyle
Creator of the Bombshell Academy Bootcamp  - where she teaches women how to release their inner Bombshell through hair, makeup, posing and photo shoots.
Television:
TV Norge- Alt for Norge Reality TV Show Season 10: Cast
ESPN- Making the Squad: Miami Dolphins Cheerleader: Cheerleader
American Forces Network- Outside the Gate: Travel Series Host
American Forces Network- Creative Commissary Cooking: Series Host
Bookings:
The Parisian Hostess Pin Up is available for Photoshoots, Hosting & Teaching Engagements. Please send an email for more information.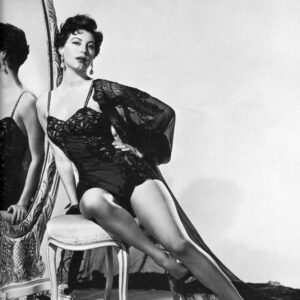 Full Bio:
Born
Ava Lavinia Gardner
December 24, 1922
Grabtown, North Carolina, U.S.
Died
January 25, 1990 (aged 67)
Westminster, London, England
Resting place
Sunset Memorial Park, Smithfield, North Carolina, U.S.
Nationality
American
Education
Rock Ridge High School
Alma mater
Atlantic Christian College
Occupation
Actress
singer
Years active
1941–1986
Height
5 ft 5 3⁄4 in (167 cm)
Spouse(s)
Mickey Rooney
(m. 1942; div. 1943)
Artie Shaw
(m. 1945; div. 1946)
Frank Sinatra
(m. 1951; div. 1957)
Website
avagardner.com
Ava Lavinia Gardner (December 24, 1922 – January 25, 1990) was an American actress and singer. Gardner was signed to a contract with Metro-Goldwyn-Mayer in 1941, and appeared mainly in small roles until she drew attention with her performance in The Killers (1946). She was nominated for the Oscar for Best Actress for her work in Mogambo (1953), and also received BAFTA Award and Golden Globe Award nominations for other films.
Gardner appeared in several high-profile films from the 1940s to 1970s, including The Hucksters (1947), Show Boat (1951), Pandora and the Flying Dutchman (1951), The Snows of Kilimanjaro (1952), The Barefoot Contessa (1954), Bhowani Junction (1956), On the Beach (1959), 55 Days at Peking (1963), Seven Days in May (1964), The Night of the Iguana (1964), The Bible: In the Beginning... (1966), Mayerling (1968), Tam-Lin (1970), The Life and Times of Judge Roy Bean (1972), Earthquake (1974), and The Cassandra Crossing (1976). Gardner continued to act regularly until 1986, four years before her death in London in 1990, at the age of 67.
She is listed 25th among the American Film Institute's 25 Greatest Female Stars of Classic Hollywood Cinema.[1] Career[edit] 1941[edit]
Gardner in 1947
Gardner was visiting her sister Beatrice in New York in 1941, when Beatrice's husband Larry Tarr, a professional photographer, offered to take her portrait. He was so pleased with the results that he displayed the finished product in the front window of his Tarr Photography Studio on Fifth Avenue.[6]
A Loews Theatres legal clerk, Barnard Duhan, spotted Gardner's photo in Tarr's studio. At the time, Duhan often posed as an MGM talent scout to meet girls, using the fact that MGM was a subsidiary of Loews. Duhan entered Tarr's and tried to get Gardner's number, but was rebuffed by the receptionist. Duhan made the comment, "Somebody should send her info to MGM", and the Tarrs did so immediately. Shortly after, Gardner, who at the time was a student at Atlantic Christian College, traveled to New York to be interviewed at MGM's New York office by Al Altman, head of MGM's New York talent department. With cameras rolling, he directed the 18-year-old to walk towards the camera, turn and walk away, then rearrange some flowers in a vase. He did not attempt to record her voice because her Southern accent made understanding her difficult for him. Louis B. Mayer, head of the studio, however, sent a telegram to Altman: "She can't sing, she can't act, she can't talk, she's terrific!"[6] She was offered a standard contract by MGM, and left school for Hollywood in 1941, with her sister Beatrice accompanying her. MGM's first order of business was to provide her with a speech coach, as her Carolina drawl was nearly incomprehensible to them.[7] 1942–1964[edit] Her first appearance in a feature film was as a walk on in the Norma Shearer vehicle We Were Dancing (1942). Fifteen bit parts later she received her first screen billing in Three Men in White (1944), a Dr. Kildare film in which she brings her mother to the hospital for treatment. After five years of bit parts, mostly at MGM, and many of them uncredited, Gardner came to prominence in the Mark Hellinger-produced smash-hit film noir The Killers (1946), playing the femme fatale Kitty Collins.
Gardner in The Killers (1946)
Gardner in "My Forbidden Past" (1951)
Gardner in Mogambo (1953)
Other films include The Hucksters (1947), Show Boat (1951), The Snows of Kilimanjaro (1952), Lone Star (1952), Mogambo (1953), The Barefoot Contessa (1954), Bhowani Junction (1956), The Sun Also Rises (1957), and On the Beach (1959). In The Barefoot Contessa, she played the role of doomed beauty Maria Vargas, a fiercely independent woman who goes from Spanish dancer to international film star with the help of a Hollywood director played by Humphrey Bogart, with tragic consequences.
Gardner at the premiere of The Barefoot Contessa in 1954
Gardner starred as Guinevere in Knights of the Round Table (1953), opposite actor Robert Taylor as Sir Lancelot. Indicative of her sophistication, she portrayed a duchess, a baroness, and other ladies of royal lineage in her films of the 1950s.
Off-camera, she could be witty and pithy, as in her assessment of director John Ford, who directed Mogambo ("The meanest man on earth. Thoroughly evil. Adored him!").[8]
She was billed between Charlton Heston and David Niven for 55 Days at Peking (1963), which was set in China during the Boxer Rebellion in 1900. The following year, she played her last major leading role in a critically acclaimed film, The Night of the Iguana (1964), based upon a Tennessee Williams play, and starring Richard Burton as an atheist clergyman and Deborah Kerr as a gentle artist traveling with her aged poet grandfather. John Huston directed the movie in Puerto Vallarta, Mexico, insisting on making the film in black and white – a decision he later regretted because of the vivid colors of the flora. Gardner received billing below Burton, but above Kerr. She was nominated for a BAFTA and a Golden Globe Award for her performance.
She next appeared again with Burt Lancaster, her co-star from The Killers, this time along with Kirk Douglas and Fredric March, in Seven Days in May (1964), a thriller about an attempted military takeover of the US government. Gardner played a former love interest of Lancaster's who could have been instrumental in Douglas's preventing a coup against the President of the United States.
1965–1986[edit] John Huston chose Gardner for the part of Sarah, the wife of Abraham (played by George C. Scott), in the Dino De Laurentiis film The Bible: In the Beginning..., which was released in 1966.[9] In a 1964 interview, she talked about why she accepted the role:
He [Huston] had more faith in me than I did myself. Now I'm glad I listened, for it is a challenging role and a very demanding one. I start out as a young wife, and age through various periods, forcing me to adjust psychologically to each age. It is a complete departure for me, and most intriguing. In this role, I must create a character, not just play one.[9] Two years later, in 1966, Gardner briefly sought the role of Mrs. Robinson in Mike Nichols' The Graduate (1967). She reportedly called Nichols and said, "I want to see you! I want to talk about this Graduate thing!" Nichols never seriously considered her for the part, preferring to cast a younger woman (Anne Bancroft was 35, while Gardner was 44), but he did visit her hotel, where he later recounted, "she sat at a little French desk with a telephone, she went through every movie star cliché. She said, 'All right, let's talk about your movie. First of all, I strip for nobody.'"[10]
Gardner moved to London in 1968, undergoing an elective hysterectomy to allay her worries of contracting the uterine cancer that had claimed the life of her mother. That year, she appeared in Mayerling, in which she played the supporting role of Austrian Empress Elisabeth of Austria, opposite James Mason as Emperor Franz Joseph I.
She appeared in a number of disaster films throughout the 1970s, notably Earthquake (1974) with Heston, The Cassandra Crossing (1976) with Lancaster, and the Canadian movie City on Fire (1979). She appeared briefly as Lillie Langtry at the end of The Life and Times of Judge Roy Bean (1972), and in The Blue Bird (1976). Her last movie was Regina Roma (1982). In the 1980s, she acted primarily on television, including the miniseries remake of The Long, Hot Summer and in a story arc on Knots Landing (both 1985).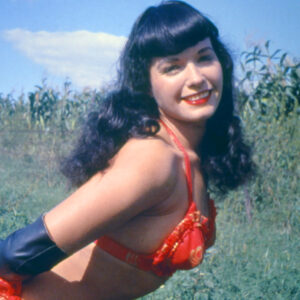 Full Bio:
Bettie Page
Bettie Page
Born
Betty Mae Page
April 22, 1923
Nashville, Tennessee, U.S.
Died
December 11, 2008 (aged 85)
Los Angeles, California, U.S.
Resting place
Westwood Village Memorial Park Cemetery
34.0583333°N 118.4408333°W
Nationality
American
Alma mater
Peabody College (part of Vanderbilt University)
Multnomah University
Occupation
Model
Playboy centerfold appearance
January 1955
Preceded by
Terry Ryan
Succeeded by
Jayne Mansfield
Personal details
Measurements
Bust: 36 in (91 cm)
Waist: 23 in (58 cm)
Hips: 35 in (89 cm)
Height
5 ft 5.5 in (166.4 cm)[
Betty Mae Page (April 22, 1923 – December 11, 2008), known professionally as Bettie Page, was an American model who gained a significant profile in the 1950s for her pin-up photos.[2][3] Often referred to as the "Queen of Pinups", her shoulder-length jet-black hair, blue eyes, and trademark bangs have influenced artists for generations.
A native of Nashville, Tennessee, Page lived in California in her early adult years before moving to New York City to pursue work as an actress. There, she found work as a pin-up model, and posed for dozens of photographers throughout the 1950s. Page was "Miss January 1955", one of the earliest Playmates of the Month for Playboy magazine. "I think that she was a remarkable lady, an iconic figure in pop culture who influenced sexuality, taste in fashion, someone who had a tremendous impact on our society," said Playboy founder Hugh Hefner to the Associated Press in 2008.[4]
In 1959, Page converted to evangelical Christianity and worked for Billy Graham,[5] studying at Bible colleges in Los Angeles and Portland, Oregon, with the intent of becoming a missionary. The latter part of Page's life was marked by depression, violent mood swings, and several years in a state psychiatric hospital suffering from paranoid schizophrenia.[6][7][8] After years of obscurity, she experienced a resurgence of popularity in the 1980s.
Modeling career[edit] Discovery and early work[edit] In late 1947, Page moved to New York City, where she hoped to find work as an actress. She supported herself by working a secretarial job at the American Bread Company, near Penn Station.[21] Within days she became the victim of a sexual assault by a group of men, and retreated home to Nashville, where she briefly worked for the L & N Railroad.[22] Within weeks, she returned to New York, becoming secretary to a real-estate developer and an insurance broker who shared offices in the Eastern Airlines Building at Rockefeller Plaza.[23]
In 1950, while walking alone along the Coney Island shore, Bettie met NYPD Officer Jerry Tibbs, who was an avid photographer, and he gave Bettie his card. He suggested she'd make a good pin-up model, and in exchange for allowing him to photograph her, he'd help make up her first pin-up portfolio, free of charge.[13] It was Officer Tibbs who suggested to Bettie that she style her hair with bangs in front, to keep light from reflecting off her high forehead when being photographed.[6] Bangs soon became an integral part of her distinctive look.
In late-1940s America, "camera clubs" were formed to circumvent laws restricting the production of nude photos. These camera clubs existed ostensibly to promote artistic photography, but in reality, many were merely fronts for the making of pornography. Page entered the field of "glamour photography" as a popular camera club model, working initially with photographer Cass Carr.[13] Her lack of inhibition in posing made her a hit, and her name and image became quickly known in the erotic photography industry. In 1951, Bettie's image appeared in men's magazines such as Wink, Titter, Eyefull and Beauty Parade.[24] Early 1950s to 1957: Irving Klaw; film work[edit]
Page appearing in S&M and bondage reels by Irving and Paula Klaw
A video featuring Bettie Page as a slave, lashing out against her Mistress and then getting spanked, 1955
From late 1951 or early 1952[25] through 1957, she posed for photographer Irving Klaw for mail-order photographs with pin-up and BDSM themes, making her the first famous bondage model. Klaw also used Page in dozens of short, black-and-white 8mm and 16mm "specialty" films, which catered to specific requests from his clientele. These silent one-reel featurettes showed women clad in lingerie and high heels, acting out fetishistic scenarios of abduction, domination, and slave-training; bondage, spanking, and elaborate leather costumes and restraints were included periodically. Page alternated between playing a stern dominatrix, and a helpless victim bound hand and foot.
Klaw also produced a line of still photos taken during these sessions. Some have become iconic images, such as his highest-selling photo of Page—shown gagged and bound in a web of ropes, from the film Leopard Bikini Bound. Although these "underground" features had the same crude style and clandestine distribution as the pornographic "stag" films of the time, Klaw's all-female films (and still photos) never featured any nudity or explicit sexual content. Commenting on the bondage photos and the reputation they afforded her, Page said retrospectively:
They keep referring to me in the magazines and newspapers and everywhere else as the "Queen of Bondage." The only bondage posing I ever did was for Irving Klaw and his sister Paula. Usually every other Saturday he had a session for four or five hours with four or five models and a couple of extra photographers, and in order to get paid you had to do an hour of bondage. And that was the only reason I did it. I never had any inkling along that line. I don't really disapprove of it; I think you can do your own thing as long as you're not hurting anybody else — that's been my philosophy ever since I was a little girl. I never looked down my nose at it. In fact, we used to laugh at some of the requests that came through the mail, even from judges and lawyers and doctors and people in high positions. Even back in the '50s they went in for the whips and the ties and everything else.[26] In 1953, Page took acting classes at the Herbert Berghof Studio, which led to several roles on stage and television. She appeared on The United States Steel Hour and The Jackie Gleason Show.[13] Her Off-Broadway productions included Time is a Thief and Sunday Costs Five Pesos. Page acted and danced in the feature-length burlesque revue film Striporama directed by Jerald Intrator in which she was given a brief speaking role. She then appeared in two more burlesque films by Irving Klaw (Teaserama and Varietease). These featured exotic dance routines and vignettes by Page and well-known striptease artists Lili St. Cyr and Tempest Storm. All three films were mildly risqué, but none showed any nudity or overtly sexual content.
In 1954, during one of her annual vacations to Miami, Florida, Page met photographers Jan Caldwell, H. W. Hannau and Bunny Yeager.[13] At that time, Page was the top pin-up model in New York. Yeager, a former model and aspiring photographer, signed Page for a photo session at the now-closed wildlife park Africa USA in Boca Raton, Florida. The "Jungle Bettie" photographs from this shoot are among her most celebrated. They include nude shots with a pair of cheetahs named Mojah and Mbili. Page herself made the leopard-skin-patterned jungle girl outfit she wore, along with much of her lingerie. A collection of the Yeager photos, and Klaw's, were published in the book Bettie Page Confidential (St. Martin's Press, 1994).
After Yeager sent shots of Page to Playboy founder Hugh Hefner, he selected one to use as the Playmate of the Month centerfold in the January 1955 issue of the two-year-old magazine. The famous photo shows Page, wearing only a Santa hat, kneeling before a Christmas tree holding an ornament and playfully winking at the camera. In 1955, Page won the title "Miss Pinup Girl of the World".[13] She also became known as "The Queen of Curves" and "The Dark Angel". While pin-up and glamour models frequently have careers measured in months, Page was in demand for several years, continuing to model until 1957.[3]
Although she frequently posed nude, she never appeared in scenes with explicit sexual content. In 1957, Page gave "expert guidance" to the FBI regarding the production of "flagellation and bondage pictures" in Harlem.[27]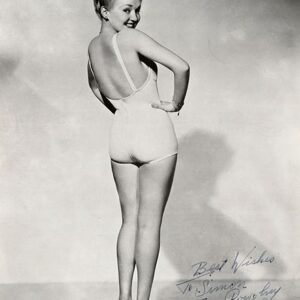 Full Bio:
Born
Elizabeth Ruth Grable
December 18, 1916
St. Louis, Missouri, U.S.
Died
July 2, 1973 (aged 56)
Los Angeles, California, U.S.
Resting place
Inglewood Park Cemetery, Inglewood, California, U.S.
Nationality
American
Other names
Frances Dean
Occupation
Actress
pin-up girl
dancer
model
singer
Years active
1929–1973
Spouse(s)
Jackie Coogan
(m. 1937; div. 1939)
Harry James
(m. 1943; div. 1965)
Children
2
Elizabeth Ruth Grable (December 18, 1916 – July 2, 1973) was an American actress, pin-up girl, dancer, model, and singer. Her 42 films during the 1930s and 1940s grossed more than $100 million, and she set a record of 12 consecutive years in the top 10 of box office stars. The U.S. Treasury Department in 1946 and 1947 listed her as the highest-salaried American woman; she earned more than $3 million during her career.[1]
Grable began her film career in 1929 at age 12, after which she was fired from a contract when it was learned she signed up under false identification. She had contracts with RKO and Paramount Pictures during the 1930s, and appeared in a string of B movies, mostly portraying college students. Grable came to prominence in the Broadway musical DuBarry Was a Lady (1939), which brought her to the attention of 20th Century-Fox.
She replaced Alice Faye in Down Argentine Way (1940), her first major Hollywood film, and became Fox's biggest film star throughout the remaining decade. Fox cast Grable in a succession of Technicolor musicals during the decade that were immensely popular, co-starring with such leading men as Victor Mature, Don Ameche, John Payne, and Tyrone Power. In 1943, she was the number-one box-office draw in the world and, in 1947, she was the highest-paid entertainer in the United States. Two of her biggest film successes were the musical Mother Wore Tights (1947) and the comedy How to Marry a Millionaire (1953), one of her last films. Grable retired from screen acting in 1955 after she withdrew from her Fox contract, although she continued to perform on the stage and on television.[2]
Throughout her career, Grable was a celebrated sex symbol. Her bathing suit poster made her the number-one pin-up girl of World War II, surpassing Rita Hayworth. It was later included in the Life magazine project "100 Photographs That Changed the World". Hosiery specialists of the era often noted the ideal proportions of her legs as thigh (18.5 in (47 cm)), calf (12 in (30 cm)), and ankle (7.5 in (19 cm)).[3] Grable's legs famously were insured by her studio for $1 million as a publicity stunt.[4] Describing her film career, Grable said "I became a star for two reasons, and I'm standing on them."
Frank Powolny poster[edit]
Grable's iconic over-the-shoulder pose from 1943 (due to the fact she was visibly pregnant) was a World War II bestseller, showing off her "Million Dollar Legs".
In 1943, she collaborated with photographer Frank Powolny for a regular studio photo session. During the shoot, she took several photos in a tight, one-piece bathing suit. One particular pose consisted of Grable's back being to the camera as she playfully smiled looking over her right shoulder, the reason for this pose was the fact that she was in fact several months pregnant with her first child [12]. The picture was released as a poster and became the most requested photo for G.I.s stationed overseas. Grable's photograph sold millions of copies, eventually surpassing the popularity of Rita Hayworth's famous 1941 photo.
Grable's success as a pin-up girl furthered her career as a mainstream movie star. As her star continued to ascend, Fox chief Darryl F. Zanuck expressed interest in broadening Grable's range as an actress. Zanuck attempted, on multiple occasions, to cast her in films that challenged her acting abilities, but Grable was reluctant; she felt insecure about her talent which rendered her unwilling to accept roles she felt required too much of her. Throughout her career, she was very cautious; she often worried about starring opposite well-known leading men. She preferred to star in up-beat and outlandish musicals, many of which followed the generic boy-meets-girl story tack. In fact, many of her movies were thin when it came to their stories, but they were high on energy during their song-and-dance sequences. Despite their lack of quality, Grable's movies were immensely popular, and Fox regularly channeled the profits it received from Grable's movies into their more prestigious movies.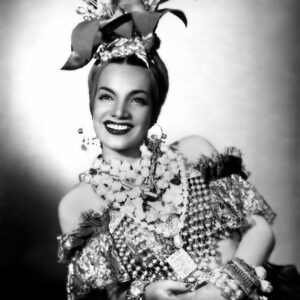 Full Bio:
Born
Maria do Carmo Miranda da Cunha
9 February 1909
Marco de Canaveses, Portugal
Died
5 August 1955 (aged 46)
Beverly Hills, California, U.S.
Resting place
São João Batista Cemetery, Rio de Janeiro, Brazil
Other names
The Brazilian Bombshell
The Chiquita Banana Girl
A Pequena Notável (in Brazil)
Education
Convent of Saint Therese of Lisieux
Occupation
Singer
dancer
actress
Years active
1928–1955
Spouse(s)
David Alfred Sebastian (m. 1947)
Relatives
Aurora Miranda (sister)
Cecilia Miranda (sister)
Musical career
Genres
Samba
Instruments
Vocals
Labels
RCA
Brunswick Records
EMI-Odeon
Decca Records
PolyGram
Website
www.carmenmiranda.com.br
Signature
During the 1930s Miranda performed on Brazilian radio and appeared in five Brazilian chanchadas, films celebrating Brazilian music, dance, and the country's carnival culture.[4] Hello, Hello Brazil! and Hello, Hello, Carnival! embodied the spirit of these early Miranda films. The 1939 musical Banana da Terra (directed by Ruy Costa) gave the world her "Baiana" image, inspired by African-Brazilians from the northeastern state of Bahia.[5]
In 1939, Broadway producer Lee Shubert offered Miranda an eight-week contract to perform in The Streets of Paris after seeing her at Cassino da Urca in Rio de Janeiro.[6] The following year she made her first Hollywood film, Down Argentine Way with Don Ameche and Betty Grable, and her exotic clothing and Lusophone accent became her trademark.[7] That year, she was voted the third-most-popular personality in the United States; she and her group, Bando da Lua, were invited to sing and dance for President Franklin D. Roosevelt.[8] In 1943, Miranda starred in Busby Berkeley's The Gang's All Here, which was noted for its musical numbers with the fruit hats that became her trademark. By 1945, she was the highest-paid woman in the United States.[9]
Miranda made 14 Hollywood films between 1940 and 1953. Although she was hailed as a talented performer, her popularity waned by the end of World War II. Miranda came to resent the stereotypical "Brazilian Bombshell" image she had cultivated, and attempted to free herself of it with limited success. She focused on nightclub appearances and became a fixture on television variety shows. Despite being stereotyped, Miranda's performances popularized Brazilian music and increased public awareness of Latin culture.[10] In 1941 she was the first Latin American star to be invited to leave her hand and footprints in the courtyard of Grauman's Chinese Theatre, and was the first South American honored with a star on the Hollywood Walk of Fame.[11] Miranda is considered the precursor of Brazil's 1960s Tropicalismo cultural movement.[12] A museum was built in Rio de Janeiro in her honor,[13] and in 1995 she was the subject of the documentary Carmen Miranda: Bananas is My Business.[14]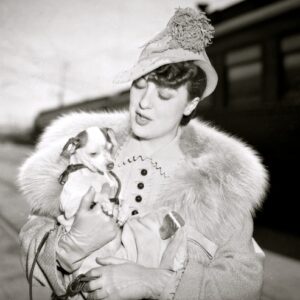 Full Bio:
Born
Rose Louise Hovick
January 8, 1911
Seattle, Washington, U.S.
Died
April 26, 1970 (aged 59)
Los Angeles, California, U.S.
Occupation
Actress, author, playwright, vedette, dancer, entertainer
Years active
1928–69
Spouse(s)
Robert Mizzy
(m. 1937; div. 1941)
Alexander Kirkland
(m. 1942; div. 1944)
Julio de Diego
(m. 1948; div. 1955)
Children
1
Parent(s)
John Olaf Hovick
Rose Thompson Hovick
Relatives
June Havoc (sister)
Gypsy Rose Lee was born in Seattle, Washington, on January 8, 1911; however, she always gave January 9 as her date of birth. She was known as Louise to her family. Her sister, actress June Havoc, was born in 1912. Their mother, Rose Thompson Hovick, forged various birth certificates for each of her daughters—older when needed to evade varying state child labor laws, and younger for reduced or free train fares. The girls were unsure until later in life what their years of birth were.
Career
Louise's singing and dancing talents were insufficient to sustain the act without June. Eventually, it became apparent that Louise could make money in burlesque, which earned her legendary status as an elegant and witty striptease artist. Initially, her act was propelled forward when a shoulder strap on one of her gowns gave way, causing her dress to fall to her feet despite her efforts to cover herself; encouraged by the audience's response, she went on to make the trick the focus of her performance.
Her innovations were an almost casual stripping style compared to the herky-jerky styles of most burlesque strippers (she emphasized the "tease" in "striptease"), and she brought a sharp sense of humor into her act as well. She became as famous for her onstage wit as for her stripping style, and—changing her stage name to Gypsy Rose Lee—she became one of the biggest stars of Minsky's Burlesque, where she performed for four years. She was frequently arrested in raids on the Minsky brothers' shows. During the Great Depression, Lee spoke at various union meetings in support of New York laborers. According to activist Harry Fisher, her talks were among those that attracted the largest audiences.
In 1937 and 1938, billed as Louise Hovick, she made five films in Hollywood. But her acting was generally panned, so she returned to New York City where she had an affair with film producer Michael Todd and co-produced and appeared in his 1942 musical revue, Star and Garter.
Lee viewed herself as a "high-class" stripper, and she approved of H. L. Mencken's term "ecdysiast", which he coined as a more "dignified" way of referring to the profession. Her style of intellectual recitation while stripping was spoofed in the number "Zip!" in Rodgers and Hart's Pal Joey, a musical in which Havoc had appeared on Broadway, opposite Gene Kelly. Lee performed an abbreviated version of her act (intellectual recitation and all) in the 1943 film Stage Door Canteen.
In 1941, Lee authored a mystery thriller called The G-String Murders, which was made into the sanitized 1943 film, Lady of Burlesque starring Barbara Stanwyck. While some assert this was in fact ghost-written by Craig Rice, there are those who claim that there is more than sufficient written evidence in the form of manuscripts and Lee's own correspondence to prove that she wrote a large part of the novel herself under the guidance of Rice and others, including her editor George Davis, a friend, and mentor. Lee's second murder mystery, Mother Finds a Body, was published in 1942. In December 1942, preliminary papers alleging breach of contract were filed in the Supreme Court against Lee by Dorothy Wheelock, associate editor of Harper's Bazaar, alleging that in August 1940 she and Gypsy entered into what Wheelock described as "an oral agreement to collaborate on a joint venture involving the conception, construction, development, writing, and exploitation of a literary work with a burlesque background. The agreement, Miss Wheelock went on, called for a 50:50 split on all income from sale of the book. She charged that she had lined up a publisher for the book when, in November 1940, Gypsy called off the collaboration ... Lee said she turned over notes and other material to Miss Wheelock and that the latter had then written 'a sample book'. However this sample book is not the book that was published, Gypsy declared. She denied any resemblance between Miss Wheelock's book and the book published under her own name, except such similarities might stem from the notes Gypsy turned over to Miss Wheelock. Simon & Schuster agreed to publish the book, Gypsy said, after the first three chapters were shown to them by Janet Flanner, a New York writer". The case was settled out of court.