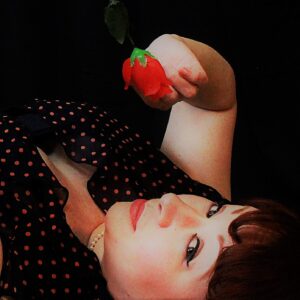 Short Bio
Published Pin Up in the Pacific Northwest
Full Bio
Published PNW Redheaded Pin Up. An officially sweatered member of the Capital City Dolls. Active in promoting Equality, Equity, Body Positivity, Inclusivity, Mental Health, Community Outreach, and Vintage Style Not Vintage Values.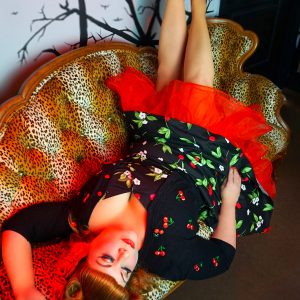 Full Bio
I am a lifelong lover of the vintage style. As long as I can remember I've always loved the elegance and glamor of retro and vintage clothing. As a child I remember playing with my grandmother's aprons and getting dressed up in her beautiful dresses. Even today her style continues to inspire me. To me, the style just comes naturally and is now a part of my daily routine. It is who I am.
In my spare time I often enjoy baking. Whenever I'm creating cute and tasty treats I'm taken back to my time spent baking with my family. As a mother of two, the happy and joyful moments spent mixing up an old family recipe are countless.
I also love to let my creativity flow. Whether its through my drawing or creating handmade crafts, I often find myself with many projects on hand. From hair accessories to cigar purses there's always something new I'm creating.
My style can often be described as a mix of both cute and creepy. My love of all things gothic and horror can sometimes mix and blend into my style. Around Halloween I love to get creative with my decorations and costume, finding the best mix of elegance and horror I can come up with.