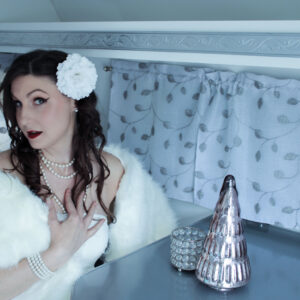 Short Bio
"… If I ever go looking for my heart's desire again, I won't look any further than my own backyard..."
Full Bio
I'm a born Carolina girl and love being part of my girl gang, Pinups and Pumps. The women have been such an inspiration and give back so much to the local community. I've always been a lover of history. Music, movies, high heels and red lipstick are this girl's best friend. I have one other love, and she's been with me since I was 16. My very first car, I still own and drive. Her name is RUBYFIRE. She's a 1990 Fox body 5.0, and together we have all the Fire you need to stay warm, baby!
A pinup is timeless and elegant yet sexy and dangerous. She turns heads everywhere she goes and never meets a stranger! A pinup puts a smile on everyone's face because let's face it, we all need a little eye candy! Pinups provided a much-needed escape for our war hero's. They touched so many lives with a simple photo or post card. Giving our veterans something to look forward to when they came home!