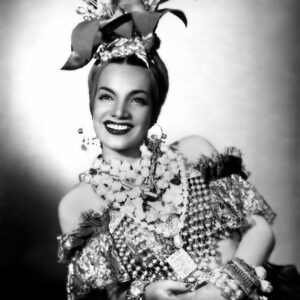 Full Bio
Born
Maria do Carmo Miranda da Cunha
9 February 1909
Marco de Canaveses, Portugal
Died
5 August 1955 (aged 46)
Beverly Hills, California, U.S.
Resting place
São João Batista Cemetery, Rio de Janeiro, Brazil
Other names
The Brazilian Bombshell
The Chiquita Banana Girl
A Pequena Notável (in Brazil)
Education
Convent of Saint Therese of Lisieux
Occupation
Singer
dancer
actress
Years active
1928–1955
Spouse(s)
David Alfred Sebastian (m. 1947)
Relatives
Aurora Miranda (sister)
Cecilia Miranda (sister)
Musical career
Genres
Samba
Instruments
Vocals
Labels
RCA
Brunswick Records
EMI-Odeon
Decca Records
PolyGram
Website
www.carmenmiranda.com.br
Signature
During the 1930s Miranda performed on Brazilian radio and appeared in five Brazilian chanchadas, films celebrating Brazilian music, dance, and the country's carnival culture.[4] Hello, Hello Brazil! and Hello, Hello, Carnival! embodied the spirit of these early Miranda films. The 1939 musical Banana da Terra (directed by Ruy Costa) gave the world her "Baiana" image, inspired by African-Brazilians from the northeastern state of Bahia.[5]
In 1939, Broadway producer Lee Shubert offered Miranda an eight-week contract to perform in The Streets of Paris after seeing her at Cassino da Urca in Rio de Janeiro.[6] The following year she made her first Hollywood film, Down Argentine Way with Don Ameche and Betty Grable, and her exotic clothing and Lusophone accent became her trademark.[7] That year, she was voted the third-most-popular personality in the United States; she and her group, Bando da Lua, were invited to sing and dance for President Franklin D. Roosevelt.[8] In 1943, Miranda starred in Busby Berkeley's The Gang's All Here, which was noted for its musical numbers with the fruit hats that became her trademark. By 1945, she was the highest-paid woman in the United States.[9]
Miranda made 14 Hollywood films between 1940 and 1953. Although she was hailed as a talented performer, her popularity waned by the end of World War II. Miranda came to resent the stereotypical "Brazilian Bombshell" image she had cultivated, and attempted to free herself of it with limited success. She focused on nightclub appearances and became a fixture on television variety shows. Despite being stereotyped, Miranda's performances popularized Brazilian music and increased public awareness of Latin culture.[10] In 1941 she was the first Latin American star to be invited to leave her hand and footprints in the courtyard of Grauman's Chinese Theatre, and was the first South American honored with a star on the Hollywood Walk of Fame.[11] Miranda is considered the precursor of Brazil's 1960s Tropicalismo cultural movement.[12] A museum was built in Rio de Janeiro in her honor,[13] and in 1995 she was the subject of the documentary Carmen Miranda: Bananas is My Business.[14]