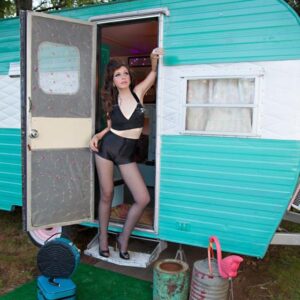 Short Bio
♥ Shellie Schmals loves Retro! ♥
Pinup * Burlesque // Performer & Producer
Full Bio
Shellie Schmals hearts the arts!! She's a pin up lovin' - microphone holdin' - event hustlin' - dynamo, who can be seen around town mixing up the worlds of film, art, fashion and comedy.
As a talent wrangler and producer/emcee, she's involved in many projects including Roxie Roz burlesque, Small Secret Things, #TheABCDShow; has collaborated as an emcee or worked on stage crew for productions by Syrens of the South, Ariel Allegro, Evangeline Laveau, The FANDom Nerdlesque, Sadie Hawkins, Glitter Goddess Productions, Trashy Diva, Trixie Minx Productions; and is a proud member of the Georgia Pinup Posse and Women in Film & Television Atlanta, where Shellie sits on the Board of Directors as Secretary, coordinates the WIFTA panels at Dragon Con 2020 (Film Track), and co-chairs the annual #WIFTAConfab (short film & talent showcase).
Shellie's column, "My Adventures in Burlesque" debuted in the March 2020 issue of The Georgia Hollywood Review.
As an internationally published pinup, Shellie has been featured in:
* VoyageATL, Art & Life section
* Cat's Pajamas Magazine
* Georgia Pinup Posse Calendar, 2018, 2019, 2020
* Tres' Jolie Magazine
* DeVoe Magazine (Cover Model)
* The Cat's Meow Magazine
* Classy Keen Issue #2
* Girls of Relapse Calendar 2012, 2013
* Vintage Vixens Magazine, Premiere Issue
* The Cat's Meow Magazine: Pre-Furred Pin-up
* Jezebel Magazine: "Street Style" Featured Model
* Atlanta Street Fashion: Featured Model
* Portraits By Shannon Jenkins: Featured Model
* The Cat's Meow Magazine: Featured Pin-Up
* ScoutMob Atlanta: Creative Eye
* CommonCreativ Magazine: 50 Most Creative Atlantans
* ATLRetro.com: Kool Kat of the Week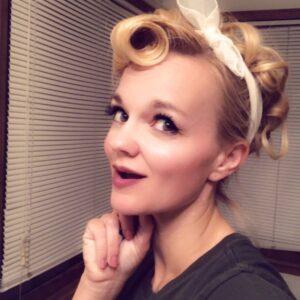 Full Bio
Aviation Angel, Daisy Donovan, is an Atlanta-based pinup. She is published in calendars for Curvy Silhouettes, American Warrior Garage, & Aviation Angels, as well as multiple magazine titles.
In her free time, she enjoys sewing; outdoor activities; & volunteering with the Commemorative Air Force. During the summer you will find her at car shows, air shows, or on the beach.
Visit her social media accounts & follow for more.