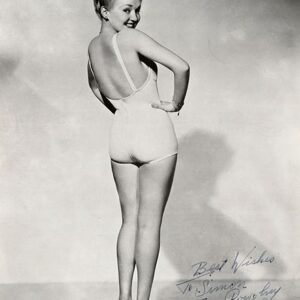 Full Bio
Born
Elizabeth Ruth Grable
December 18, 1916
St. Louis, Missouri, U.S.
Died
July 2, 1973 (aged 56)
Los Angeles, California, U.S.
Resting place
Inglewood Park Cemetery, Inglewood, California, U.S.
Nationality
American
Other names
Frances Dean
Occupation
Actress
pin-up girl
dancer
model
singer
Years active
1929–1973
Spouse(s)
Jackie Coogan
(m. 1937; div. 1939)
Harry James
(m. 1943; div. 1965)
Children
2
Elizabeth Ruth Grable (December 18, 1916 – July 2, 1973) was an American actress, pin-up girl, dancer, model, and singer. Her 42 films during the 1930s and 1940s grossed more than $100 million, and she set a record of 12 consecutive years in the top 10 of box office stars. The U.S. Treasury Department in 1946 and 1947 listed her as the highest-salaried American woman; she earned more than $3 million during her career.[1]
Grable began her film career in 1929 at age 12, after which she was fired from a contract when it was learned she signed up under false identification. She had contracts with RKO and Paramount Pictures during the 1930s, and appeared in a string of B movies, mostly portraying college students. Grable came to prominence in the Broadway musical DuBarry Was a Lady (1939), which brought her to the attention of 20th Century-Fox.
She replaced Alice Faye in Down Argentine Way (1940), her first major Hollywood film, and became Fox's biggest film star throughout the remaining decade. Fox cast Grable in a succession of Technicolor musicals during the decade that were immensely popular, co-starring with such leading men as Victor Mature, Don Ameche, John Payne, and Tyrone Power. In 1943, she was the number-one box-office draw in the world and, in 1947, she was the highest-paid entertainer in the United States. Two of her biggest film successes were the musical Mother Wore Tights (1947) and the comedy How to Marry a Millionaire (1953), one of her last films. Grable retired from screen acting in 1955 after she withdrew from her Fox contract, although she continued to perform on the stage and on television.[2]
Throughout her career, Grable was a celebrated sex symbol. Her bathing suit poster made her the number-one pin-up girl of World War II, surpassing Rita Hayworth. It was later included in the Life magazine project "100 Photographs That Changed the World". Hosiery specialists of the era often noted the ideal proportions of her legs as thigh (18.5 in (47 cm)), calf (12 in (30 cm)), and ankle (7.5 in (19 cm)).[3] Grable's legs famously were insured by her studio for $1 million as a publicity stunt.[4] Describing her film career, Grable said "I became a star for two reasons, and I'm standing on them."
Frank Powolny poster[edit]
Grable's iconic over-the-shoulder pose from 1943 (due to the fact she was visibly pregnant) was a World War II bestseller, showing off her "Million Dollar Legs".
In 1943, she collaborated with photographer Frank Powolny for a regular studio photo session. During the shoot, she took several photos in a tight, one-piece bathing suit. One particular pose consisted of Grable's back being to the camera as she playfully smiled looking over her right shoulder, the reason for this pose was the fact that she was in fact several months pregnant with her first child [12]. The picture was released as a poster and became the most requested photo for G.I.s stationed overseas. Grable's photograph sold millions of copies, eventually surpassing the popularity of Rita Hayworth's famous 1941 photo.
Grable's success as a pin-up girl furthered her career as a mainstream movie star. As her star continued to ascend, Fox chief Darryl F. Zanuck expressed interest in broadening Grable's range as an actress. Zanuck attempted, on multiple occasions, to cast her in films that challenged her acting abilities, but Grable was reluctant; she felt insecure about her talent which rendered her unwilling to accept roles she felt required too much of her. Throughout her career, she was very cautious; she often worried about starring opposite well-known leading men. She preferred to star in up-beat and outlandish musicals, many of which followed the generic boy-meets-girl story tack. In fact, many of her movies were thin when it came to their stories, but they were high on energy during their song-and-dance sequences. Despite their lack of quality, Grable's movies were immensely popular, and Fox regularly channeled the profits it received from Grable's movies into their more prestigious movies.