Historical Pin Up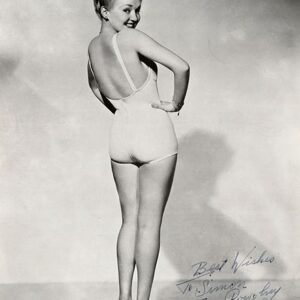 Full Bio:
Born
Elizabeth Ruth Grable
December 18, 1916
St. Louis, Missouri, U.S.
Died
July 2, 1973 (aged 56)
Los Angeles, California, U.S.
Resting place
Inglewood Park Cemetery, Inglewood, California, U.S.
Nationality
American
Other names
Frances Dean
Occupation
Actress
pin-up girl
dancer
model
singer
Years active
1929–1973
Spouse(s)
Jackie Coogan
(m. 1937; div. 1939)
Harry James
(m. 1943; div. 1965)
Children
2
Elizabeth Ruth Grable (December 18, 1916 – July 2, 1973) was an American actress, pin-up girl, dancer, model, and singer. Her 42 films during the 1930s and 1940s grossed more than $100 million, and she set a record of 12 consecutive years in the top 10 of box office stars. The U.S. Treasury Department in 1946 and 1947 listed her as the highest-salaried American woman; she earned more than $3 million during her career.[1]
Grable began her film career in 1929 at age 12, after which she was fired from a contract when it was learned she signed up under false identification. She had contracts with RKO and Paramount Pictures during the 1930s, and appeared in a string of B movies, mostly portraying college students. Grable came to prominence in the Broadway musical DuBarry Was a Lady (1939), which brought her to the attention of 20th Century-Fox.
She replaced Alice Faye in Down Argentine Way (1940), her first major Hollywood film, and became Fox's biggest film star throughout the remaining decade. Fox cast Grable in a succession of Technicolor musicals during the decade that were immensely popular, co-starring with such leading men as Victor Mature, Don Ameche, John Payne, and Tyrone Power. In 1943, she was the number-one box-office draw in the world and, in 1947, she was the highest-paid entertainer in the United States. Two of her biggest film successes were the musical Mother Wore Tights (1947) and the comedy How to Marry a Millionaire (1953), one of her last films. Grable retired from screen acting in 1955 after she withdrew from her Fox contract, although she continued to perform on the stage and on television.[2]
Throughout her career, Grable was a celebrated sex symbol. Her bathing suit poster made her the number-one pin-up girl of World War II, surpassing Rita Hayworth. It was later included in the Life magazine project "100 Photographs That Changed the World". Hosiery specialists of the era often noted the ideal proportions of her legs as thigh (18.5 in (47 cm)), calf (12 in (30 cm)), and ankle (7.5 in (19 cm)).[3] Grable's legs famously were insured by her studio for $1 million as a publicity stunt.[4] Describing her film career, Grable said "I became a star for two reasons, and I'm standing on them."
Frank Powolny poster[edit]
Grable's iconic over-the-shoulder pose from 1943 (due to the fact she was visibly pregnant) was a World War II bestseller, showing off her "Million Dollar Legs".
In 1943, she collaborated with photographer Frank Powolny for a regular studio photo session. During the shoot, she took several photos in a tight, one-piece bathing suit. One particular pose consisted of Grable's back being to the camera as she playfully smiled looking over her right shoulder, the reason for this pose was the fact that she was in fact several months pregnant with her first child [12]. The picture was released as a poster and became the most requested photo for G.I.s stationed overseas. Grable's photograph sold millions of copies, eventually surpassing the popularity of Rita Hayworth's famous 1941 photo.
Grable's success as a pin-up girl furthered her career as a mainstream movie star. As her star continued to ascend, Fox chief Darryl F. Zanuck expressed interest in broadening Grable's range as an actress. Zanuck attempted, on multiple occasions, to cast her in films that challenged her acting abilities, but Grable was reluctant; she felt insecure about her talent which rendered her unwilling to accept roles she felt required too much of her. Throughout her career, she was very cautious; she often worried about starring opposite well-known leading men. She preferred to star in up-beat and outlandish musicals, many of which followed the generic boy-meets-girl story tack. In fact, many of her movies were thin when it came to their stories, but they were high on energy during their song-and-dance sequences. Despite their lack of quality, Grable's movies were immensely popular, and Fox regularly channeled the profits it received from Grable's movies into their more prestigious movies.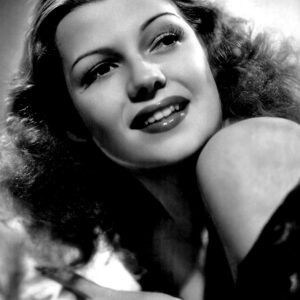 Full Bio:
Hayworth in 1946
Born
Margarita Carmen Cansino
October 17, 1918
Brooklyn, New York, U.S.
Died
May 14, 1987 (aged 68)
Manhattan, New York, U.S.
Cause of death
Alzheimer's disease complications
Resting place
Holy Cross Cemetery, Culver City
Occupation
Actress, dancer
Years active
1931–1972
Spouse(s)
Edward C. Judson
(m. 1937; div. 1942)
Orson Welles
(m. 1943; div. 1947)
Prince Aly Khan
(m. 1949; div. 1953)
Dick Haymes
(m. 1953; div. 1955)
James Hill
(m. 1958; div. 1961)
Children
2, including Yasmin Aga Khan
Parent(s)
Eduardo Cansino
Volga Hayworth
Relatives
Richard Cansino (nephew)
Vinton Hayworth (uncle)
Signature
Rita Hayworth (born Margarita Carmen Cansino; October 17, 1918 – May 14, 1987) was an American actress and dancer. She achieved fame during the 1940s as one of the era's top stars, appearing in 61 films over 37 years. The press coined the term "The Love Goddess" to describe Hayworth after she had become the most glamorous screen idol of the 1940s. She was the top pin-up girl for GIs during World War II.[1]
Hayworth is perhaps best known for her performance in the 1946 film noir Gilda, opposite Glenn Ford, in which she played the femme fatale in her first major dramatic role. Fred Astaire, with whom she made two films, once called her his favorite dance partner. Her greatest success was in the Technicolor musical Cover Girl (1944), with Gene Kelly. She is listed as one of the top 25 female motion picture stars of all time in the American Film Institute's survey, AFI's 100 Years…100 Stars.
In 1980, Hayworth was diagnosed with Alzheimer's disease, which contributed to her death at age 68. The public disclosure and discussion of her illness drew attention to Alzheimer's, which was largely unknown by most people at the time, and helped to increase public and private funding for Alzheimer's research.
Peak years at Columbia[edit] Hayworth had top billing in one of her best-known films, the Technicolor musical Cover Girl, released in 1944.[25] The film established her as Columbia's top star of the 1940s, and it gave her the distinction of being the first of only six women to dance on screen with both Gene Kelly and Fred Astaire.[26] "I guess the only jewels of my life", Hayworth said in 1970, "were the pictures I made with Fred Astaire … And Cover Girl, too."[27]
Hayworth and choreographer Jack Cole in Tonight and Every Night (1945)
For three consecutive years, starting in 1944, Hayworth was named one of the top movie box-office attractions in the world. She was adept in ballet, tap, ballroom, and Spanish routines. Cohn continued to showcase Hayworth's dance talents. Columbia featured her in the Technicolor films Tonight and Every Night (1945) with Lee Bowman and Down to Earth (1947) with Larry Parks.[citation needed]
Hayworth as Gilda (1946)
Her sexy, glamorous appeal was most noted in Charles Vidor's film noir Gilda (1946) with Glenn Ford, which caused censors some consternation. The role, in which Hayworth wore black satin and performed a legendary one-glove striptease, "Put The Blame On Mame", made her into a cultural icon as a femme fatale.[3]
While Gilda was in release, it was widely reported that an atomic bomb which was scheduled to be tested at Bikini Atoll in the Pacific Ocean's Marshall Islands would bear an image of Hayworth, a reference to her bombshell status. Although the gesture was undoubtedly meant as a compliment,[28] Hayworth was deeply offended. Orson Welles, then married to Hayworth, recalled her anger in an interview with biographer Barbara Leaming: "Rita used to fly into terrible rages all the time, but the angriest was when she found out that they'd put her on the atom bomb. Rita almost went insane, she was so angry. … She wanted to go to Washington to hold a press conference, but Harry Cohn wouldn't let her because it would be unpatriotic." Welles tried to persuade Hayworth that the whole business was not a publicity stunt on Cohn's part, that it was simply homage to her from the flight crew.[14]:129–130
On the June 30, 1946, broadcast of Orson Welles Commentaries, Welles said of the imminent test, "I want my daughter to be able to tell her daughter that grandmother's picture was on the last atom bomb ever to explode."[29]
The fourth atomic bomb ever to be detonated was decorated with a photograph of Hayworth cut from the June 1946 issue of Esquire magazine. Above it was stenciled the device's nickname, "Gilda", in two-inch black letters.[30]
Hayworth in The Lady from Shanghai (1947)
Hayworth's performance in Welles's 1947 film The Lady from Shanghai was critically acclaimed.[3] The film's failure at the box office was attributed in part to Hayworth's famous red hair being cut short and bleached platinum blonde for the role. Cohn had not been consulted and was furious that Hayworth's image was changed.[citation needed]
Also in 1947, Hayworth was featured in a Life cover story by Winthrop Sargeant that resulted in her being nicknamed "The Love Goddess".[31] The term was adopted and used later as the title of a biopic and of a biography about her. In a 1980s interview, Hayworth said, "Everybody else does nude scenes, but I don't. I never made nude movies. I didn't have to do that. I danced. I was provocative, I guess, in some things. But I was not completely exposed."[10]:234
Her next film, The Loves of Carmen (1948) with Glenn Ford, was the first film co-produced by Columbia and Hayworth's production company, The Beckworth Corporation (named for Rebecca, her daughter with Welles). It was Columbia's biggest moneymaker that year. She received a percentage of the profits from this and all her subsequent films until 1954, when she dissolved Beckworth to pay off debts.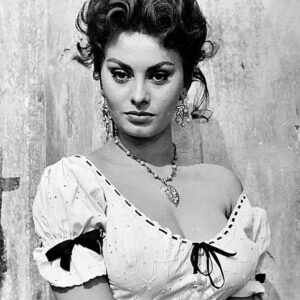 Full Bio:
Born

5526965 (9003107) Sophia LOREN ( Scicolone ) , vorne , spaetere italienische Schauspielerin , auf der Bьhne im Bikini beim Schцnheitswettbewerb ' Miss Italia ' . Sie erhielt den Trostpreis ' Miss Eleganza ' , 1950, [Nutzung nur mit Genehmigung und gegen Honorar, Beleg, Namensnennung und zu unseren AGB. Nur zur redaktionellen Verwendung. Honorare an: KEYSTONE Pressedienst, HASPA, BLZ 200 505 50, Kto. 1235130877], s/w, 20. Jahrhundert, 50er Jahre, Personen, Schauspielerin, Schцnheitswettbewerb, Schoenheitswettbewerb, Miss Wahlen, Schцnheitswettbewerbe, Schoenheitswettbewerbe , Schцnheitskцnigin, Schoenheitskoenigin, Buehne, Badeanzug, Hochformat, Bikini 20 September 1934 (age 85)
Rome, Kingdom of Italy

Nationality
Italian

Other names
Sofia Scicolone
Sofia Lazzaro

Citizenship
Italian, French

Occupation
Actress and singer

Years active
1950–present

Spouse(s)

Carlo Ponti Sr.
(m. 1957; ann. 1962)
(m. 1966; died 2007)

Children
Carlo Ponti
Edoardo Ponti

Relatives
Alessandra Mussolini (niece)

Sofia Villani Scicolone Dame Grand Cross OMRI (Italian: [soˈfiːa vilˈlaːni ʃikoˈloːne]; born 20 September 1934), known professionally as Sophia Loren (Italian: [ˈlɔːren], English: /ləˈrɛn/), is an Italian film actress. She is one of the last surviving stars from the Golden Age of Hollywood.

Encouraged to enroll in acting lessons after entering a beauty pageant, Loren began her film career at age 16 in 1950. She appeared in several bit parts and minor roles in the early part of the decade, until her five-picture contract with Paramount in 1956 launched her international career. Notable film appearances around this time include The Pride and the Passion, Houseboat, and It Started in Naples.

At age 15, Loren as Sofia Lazzaro entered the Miss Italia 1950 beauty pageant and was assigned as Candidate #2, being one to the four sharing contestants representing the Lazio region. She was selected as one of the last three finalists and won the title of "Miss Elegance 1950" , while Liliana Cardinale won the title of "Miss Cinema" and Anna Maria Bugliari won the grand title of Miss Italia. She returned in 2001 as president of the jury for the 61st edition of the pageant. In 2010, Loren crowned the 71st Miss Italia pageant winner.[8][9]

Her talents as an actress were not recognized until her performance as Cesira in Vittorio De Sica's Two Women (1961); Loren's performance earned her the Academy Award for Best Actress, making her the first actor or actress to win an Oscar for a foreign-language performance. She holds the record for having earned six David di Donatello Awards for Best Actress: Two Women; Yesterday, Today and Tomorrow (1963); Marriage Italian Style (1964) (for which she was nominated for a second Oscar); Sunflower (1970); The Voyage (1974); and A Special Day (1977). After starting a family in the early 1970s, Loren chose to make only occasional film appearances. Most recently, she has appeared in American films such as Grumpier Old Men (1995) and Nine (2009).

Aside from the Academy Award, she has won a Grammy Award, five special Golden Globes (including the Cecil B. DeMille Award), a BAFTA Award, a Laurel Award, the Volpi Cup for Best Actress at the Venice Film Festival, the Best Actress Award at the Cannes Film Festival and the Honorary Academy Award in 1991. In 1995, she received the Golden Globe Cecil B. DeMille Award for lifetime achievements, one of many such awards. In 1999, Loren was named by the American Film Institute the 21st greatest female star of Classic Hollywood Cinema. She is currently the only living actress and the highest ranked living person on the list.[1]