retro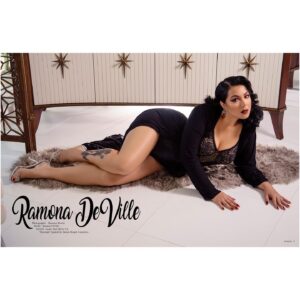 Short Bio:
Classy Chassy with a Kiss of Sassy
Full Bio:
Internationally Published Pin-up Model. Ramona Deville was born in New Jersey, raised in Miami and of Colombian descent. She loves Retro Vintage Americana culture from the 30s to the early 60s. She likes rockabilly, psychobilly, classic cars, classic monsters/horror, and Pinball. She is president of the Luscious Ladies South Florida Chapter, the largest Pin-up group worldwide. Her inspirations include Bettie Page, Vampira, and the hostess with the mostess, mistress of dark, Elvira and is a proud owner of her pinball machine , Elvira and the Party Monsters.
*Miss Iron & Clematis 2014 *Miss Old Soul Young Blood 2014 *Cover model Pinup Worship Magazine December 2018 Holiday issue *Published over 40 times in Retro Magazines such as Retro Lovely, Pinup Kulture, Bombshell Magazine in UK, Pinup Perfection, Atomic Bombshells, Pinup America, Garters and Grill, Pinups and Hotrods, Pink Elephant.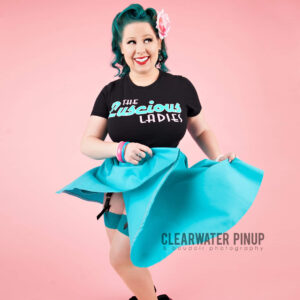 Short Bio:
Hi! I'm Mayzie! I'm a vintage/retro pinup model based in Tampa Bay, Florida
Full Bio:
I have always had a love of vintage, and with finding the pinup/rockabilly lifestyle, I feel like I have finally found my place in this crazy world!
I'm a mom of six – 3 human kids and 3 dachshund puppies! When I'm not busy at home or modeling, I'm also a professional photographer. My Husband & I own Clearwater Pinup and Boudoir Photography.
Why "Mayzie"?
I am a HUGE Dr. Seuss fan. I have always loved all of his books – I grew up loving thim & have passed the love down to my children. I really wanted to use a name from one of his books, but unfortunately, there were only a handful of names I thought would fit for a pinup name. I ultimately settled on "Mayzie" from "Daisy-Head Mayzie" and "Mayzie La Bird"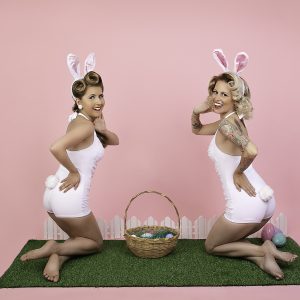 Short Bio:
Army Veteran Pinup Girl & Artist
Full Bio:
Published pinup model. Artist, creator, crafter, knitter, mom, trained hairdresser, and makeup artist. Pinups for Pitbulls ambassador, dog advocate, South Florida Volunteer Team Leader and 2020 Calendar Model (Miss October). Pinned Ladies 2020 Calendar Model (Miss April). Miss Peterson's Pinup 2019 (Peterson's Harley Davidson South Florida). ARMY VETERAN.