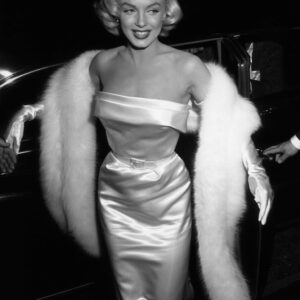 Full Bio
Monroe found herself at the center of a scandal in March 1952, when she revealed that she had posed for nude pictures in 1949, which were now featured in a calendar.[86] The studio had learned of the upcoming publication of the calendar some weeks prior, and together with Monroe decided that to avoid damaging her career it was best to admit to them while stressing that she had been broke at the time.[87] The strategy gained her public sympathy and increased interest in her films, for which she was now receiving top-billing. In the wake of the scandal, Monroe was featured on the cover of Life as the "Talk of Hollywood" and gossip columnist Hedda Hopper declared her the "cheesecake queen" turned "box office smash".[88] Fox released three of Monroe's films —Clash by Night, Don't Bother to Knock and We're Not Married!— soon after to capitalize on the public interest.[89]
When Niagara was released in January 1953, women's clubs protested it as immoral, but it proved popular with audiences.[115] While Variety deemed it "clichéd" and "morbid", The New York Times commented that "the falls and Miss Monroe are something to see", as although Monroe may not be "the perfect actress at this point ... she can be seductive—even when she walks".[116][117] Monroe continued to attract attention by wearing revealing outfits, most famously at the Photoplay awards in January 1953, where she won the "Fastest Rising Star" award.[118] She wore a skin-tight gold lamé dress, which prompted veteran star Joan Crawford to publicly call her behavior "unbecoming an actress and a lady".[118]
While Niagara made Monroe a sex symbol and established her "look", her second film of 1953, the satirical musical comedy Gentlemen Prefer Blondes, cemented her screen persona as a "dumb blonde".[119] Based on Anita Loos' novel and its Broadway version, the film focuses on two "gold-digging" showgirls played by Monroe and Jane Russell. Monroe's role was originally intended for Betty Grable, who had been 20th Century-Fox's most popular "blonde bombshell" in the 1940s; Monroe was fast eclipsing her as a star who could appeal to both male and female audiences.[120] As part of the film's publicity campaign, she and Russell pressed their hand and footprints in wet concrete outside Grauman's Chinese Theatre in June.[121] Gentlemen Prefer Blondes was released shortly after and became one of the biggest box office successes of the year.[122] Crowther of The New York Times and William Brogdon of Variety both commented favorably on Monroe, especially noting her performance of "Diamonds Are a Girl's Best Friend"; according to the latter, she demonstrated the "ability to sex a song as well as point up the eye values of a scene by her presence".[123][124]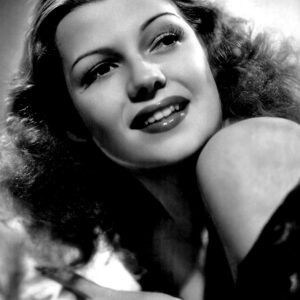 Full Bio
Hayworth in 1946
Born
Margarita Carmen Cansino
October 17, 1918
Brooklyn, New York, U.S.
Died
May 14, 1987 (aged 68)
Manhattan, New York, U.S.
Cause of death
Alzheimer's disease complications
Resting place
Holy Cross Cemetery, Culver City
Occupation
Actress, dancer
Years active
1931–1972
Spouse(s)
Edward C. Judson
(m. 1937; div. 1942)
Orson Welles
(m. 1943; div. 1947)
Prince Aly Khan
(m. 1949; div. 1953)
Dick Haymes
(m. 1953; div. 1955)
James Hill
(m. 1958; div. 1961)
Children
2, including Yasmin Aga Khan
Parent(s)
Eduardo Cansino
Volga Hayworth
Relatives
Richard Cansino (nephew)
Vinton Hayworth (uncle)
Signature
Rita Hayworth (born Margarita Carmen Cansino; October 17, 1918 – May 14, 1987) was an American actress and dancer. She achieved fame during the 1940s as one of the era's top stars, appearing in 61 films over 37 years. The press coined the term "The Love Goddess" to describe Hayworth after she had become the most glamorous screen idol of the 1940s. She was the top pin-up girl for GIs during World War II.[1]
Hayworth is perhaps best known for her performance in the 1946 film noir Gilda, opposite Glenn Ford, in which she played the femme fatale in her first major dramatic role. Fred Astaire, with whom she made two films, once called her his favorite dance partner. Her greatest success was in the Technicolor musical Cover Girl (1944), with Gene Kelly. She is listed as one of the top 25 female motion picture stars of all time in the American Film Institute's survey, AFI's 100 Years...100 Stars.
In 1980, Hayworth was diagnosed with Alzheimer's disease, which contributed to her death at age 68. The public disclosure and discussion of her illness drew attention to Alzheimer's, which was largely unknown by most people at the time, and helped to increase public and private funding for Alzheimer's research.
Peak years at Columbia[edit]
Hayworth had top billing in one of her best-known films, the Technicolor musical Cover Girl, released in 1944.[25] The film established her as Columbia's top star of the 1940s, and it gave her the distinction of being the first of only six women to dance on screen with both Gene Kelly and Fred Astaire.[26] "I guess the only jewels of my life", Hayworth said in 1970, "were the pictures I made with Fred Astaire ... And Cover Girl, too."[27]
Hayworth and choreographer Jack Cole in Tonight and Every Night (1945)
For three consecutive years, starting in 1944, Hayworth was named one of the top movie box-office attractions in the world. She was adept in ballet, tap, ballroom, and Spanish routines. Cohn continued to showcase Hayworth's dance talents. Columbia featured her in the Technicolor films Tonight and Every Night (1945) with Lee Bowman and Down to Earth (1947) with Larry Parks.[citation needed]
Hayworth as Gilda (1946)
Her sexy, glamorous appeal was most noted in Charles Vidor's film noir Gilda (1946) with Glenn Ford, which caused censors some consternation. The role, in which Hayworth wore black satin and performed a legendary one-glove striptease, "Put The Blame On Mame", made her into a cultural icon as a femme fatale.[3]
While Gilda was in release, it was widely reported that an atomic bomb which was scheduled to be tested at Bikini Atoll in the Pacific Ocean's Marshall Islands would bear an image of Hayworth, a reference to her bombshell status. Although the gesture was undoubtedly meant as a compliment,[28] Hayworth was deeply offended. Orson Welles, then married to Hayworth, recalled her anger in an interview with biographer Barbara Leaming: "Rita used to fly into terrible rages all the time, but the angriest was when she found out that they'd put her on the atom bomb. Rita almost went insane, she was so angry. ... She wanted to go to Washington to hold a press conference, but Harry Cohn wouldn't let her because it would be unpatriotic." Welles tried to persuade Hayworth that the whole business was not a publicity stunt on Cohn's part, that it was simply homage to her from the flight crew.[14]:129–130
On the June 30, 1946, broadcast of Orson Welles Commentaries, Welles said of the imminent test, "I want my daughter to be able to tell her daughter that grandmother's picture was on the last atom bomb ever to explode."[29]
The fourth atomic bomb ever to be detonated was decorated with a photograph of Hayworth cut from the June 1946 issue of Esquire magazine. Above it was stenciled the device's nickname, "Gilda", in two-inch black letters.[30]
Hayworth in The Lady from Shanghai (1947)
Hayworth's performance in Welles's 1947 film The Lady from Shanghai was critically acclaimed.[3] The film's failure at the box office was attributed in part to Hayworth's famous red hair being cut short and bleached platinum blonde for the role. Cohn had not been consulted and was furious that Hayworth's image was changed.[citation needed]
Also in 1947, Hayworth was featured in a Life cover story by Winthrop Sargeant that resulted in her being nicknamed "The Love Goddess".[31] The term was adopted and used later as the title of a biopic and of a biography about her. In a 1980s interview, Hayworth said, "Everybody else does nude scenes, but I don't. I never made nude movies. I didn't have to do that. I danced. I was provocative, I guess, in some things. But I was not completely exposed."[10]:234
Her next film, The Loves of Carmen (1948) with Glenn Ford, was the first film co-produced by Columbia and Hayworth's production company, The Beckworth Corporation (named for Rebecca, her daughter with Welles). It was Columbia's biggest moneymaker that year. She received a percentage of the profits from this and all her subsequent films until 1954, when she dissolved Beckworth to pay off debts.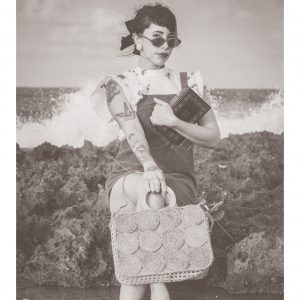 Short Bio
Hi! I live in Cuba and I'm a big fan of pin-up and rockabilly aesthetics, which is very rare here, I'll love to meet more people who are interested in the vintage style.
Full Bio
From Cuba, age 31, work as a bartender in Havana in bar melodrama, love books and music, and of course everything that smells vintage.