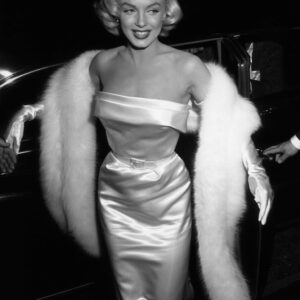 Full Bio
Monroe found herself at the center of a scandal in March 1952, when she revealed that she had posed for nude pictures in 1949, which were now featured in a calendar.[86] The studio had learned of the upcoming publication of the calendar some weeks prior, and together with Monroe decided that to avoid damaging her career it was best to admit to them while stressing that she had been broke at the time.[87] The strategy gained her public sympathy and increased interest in her films, for which she was now receiving top-billing. In the wake of the scandal, Monroe was featured on the cover of Life as the "Talk of Hollywood" and gossip columnist Hedda Hopper declared her the "cheesecake queen" turned "box office smash".[88] Fox released three of Monroe's films —Clash by Night, Don't Bother to Knock and We're Not Married!— soon after to capitalize on the public interest.[89]
When Niagara was released in January 1953, women's clubs protested it as immoral, but it proved popular with audiences.[115] While Variety deemed it "clichéd" and "morbid", The New York Times commented that "the falls and Miss Monroe are something to see", as although Monroe may not be "the perfect actress at this point ... she can be seductive—even when she walks".[116][117] Monroe continued to attract attention by wearing revealing outfits, most famously at the Photoplay awards in January 1953, where she won the "Fastest Rising Star" award.[118] She wore a skin-tight gold lamé dress, which prompted veteran star Joan Crawford to publicly call her behavior "unbecoming an actress and a lady".[118]
While Niagara made Monroe a sex symbol and established her "look", her second film of 1953, the satirical musical comedy Gentlemen Prefer Blondes, cemented her screen persona as a "dumb blonde".[119] Based on Anita Loos' novel and its Broadway version, the film focuses on two "gold-digging" showgirls played by Monroe and Jane Russell. Monroe's role was originally intended for Betty Grable, who had been 20th Century-Fox's most popular "blonde bombshell" in the 1940s; Monroe was fast eclipsing her as a star who could appeal to both male and female audiences.[120] As part of the film's publicity campaign, she and Russell pressed their hand and footprints in wet concrete outside Grauman's Chinese Theatre in June.[121] Gentlemen Prefer Blondes was released shortly after and became one of the biggest box office successes of the year.[122] Crowther of The New York Times and William Brogdon of Variety both commented favorably on Monroe, especially noting her performance of "Diamonds Are a Girl's Best Friend"; according to the latter, she demonstrated the "ability to sex a song as well as point up the eye values of a scene by her presence".[123][124]