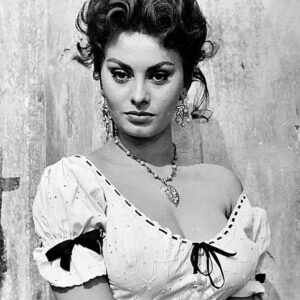 Full Bio
Born
[caption id="attachment_704" align="alignnone" width="736"] 5526965 (9003107) Sophia LOREN ( Scicolone ) , vorne , spaetere italienische Schauspielerin , auf der Bьhne im Bikini beim Schцnheitswettbewerb ' Miss Italia ' . Sie erhielt den Trostpreis ' Miss Eleganza ' , 1950, [Nutzung nur mit Genehmigung und gegen Honorar, Beleg, Namensnennung und zu unseren AGB. Nur zur redaktionellen Verwendung. Honorare an: KEYSTONE Pressedienst, HASPA, BLZ 200 505 50, Kto. 1235130877], s/w, 20. Jahrhundert, 50er Jahre, Personen, Schauspielerin, Schцnheitswettbewerb, Schoenheitswettbewerb, Miss Wahlen, Schцnheitswettbewerbe, Schoenheitswettbewerbe , Schцnheitskцnigin, Schoenheitskoenigin, Buehne, Badeanzug, Hochformat, Bikini[/caption]
20 September 1934 (age 85)
Rome, Kingdom of Italy
Nationality
Italian
Other names
Sofia Scicolone
Sofia Lazzaro
Citizenship
Italian, French
Occupation
Actress and singer
Years active
1950–present
Spouse(s)
Carlo Ponti Sr.
(m. 1957; ann. 1962)
(m. 1966; died 2007)
Children
Carlo Ponti
Edoardo Ponti
Relatives
Alessandra Mussolini (niece)
Sofia Villani Scicolone Dame Grand Cross OMRI (Italian: [soˈfiːa vilˈlaːni ʃikoˈloːne]; born 20 September 1934), known professionally as Sophia Loren (Italian: [ˈlɔːren], English: /ləˈrɛn/), is an Italian film actress. She is one of the last surviving stars from the Golden Age of Hollywood.
Encouraged to enroll in acting lessons after entering a beauty pageant, Loren began her film career at age 16 in 1950. She appeared in several bit parts and minor roles in the early part of the decade, until her five-picture contract with Paramount in 1956 launched her international career. Notable film appearances around this time include The Pride and the Passion, Houseboat, and It Started in Naples.
At age 15, Loren as Sofia Lazzaro entered the Miss Italia 1950 beauty pageant and was assigned as Candidate #2, being one to the four sharing contestants representing the Lazio region. She was selected as one of the last three finalists and won the title of "Miss Elegance 1950" , while Liliana Cardinale won the title of "Miss Cinema" and Anna Maria Bugliari won the grand title of Miss Italia. She returned in 2001 as president of the jury for the 61st edition of the pageant. In 2010, Loren crowned the 71st Miss Italia pageant winner.[8][9]
Her talents as an actress were not recognized until her performance as Cesira in Vittorio De Sica's Two Women (1961); Loren's performance earned her the Academy Award for Best Actress, making her the first actor or actress to win an Oscar for a foreign-language performance. She holds the record for having earned six David di Donatello Awards for Best Actress: Two Women; Yesterday, Today and Tomorrow (1963); Marriage Italian Style (1964) (for which she was nominated for a second Oscar); Sunflower (1970); The Voyage (1974); and A Special Day (1977). After starting a family in the early 1970s, Loren chose to make only occasional film appearances. Most recently, she has appeared in American films such as Grumpier Old Men (1995) and Nine (2009).
Aside from the Academy Award, she has won a Grammy Award, five special Golden Globes (including the Cecil B. DeMille Award), a BAFTA Award, a Laurel Award, the Volpi Cup for Best Actress at the Venice Film Festival, the Best Actress Award at the Cannes Film Festival and the Honorary Academy Award in 1991. In 1995, she received the Golden Globe Cecil B. DeMille Award for lifetime achievements, one of many such awards. In 1999, Loren was named by the American Film Institute the 21st greatest female star of Classic Hollywood Cinema. She is currently the only living actress and the highest ranked living person on the list.[1]