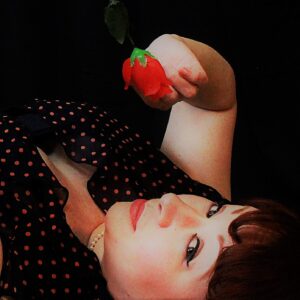 Short Bio
Published Pin Up in the Pacific Northwest
Full Bio
Published PNW Redheaded Pin Up. An officially sweatered member of the Capital City Dolls. Active in promoting Equality, Equity, Body Positivity, Inclusivity, Mental Health, Community Outreach, and Vintage Style Not Vintage Values.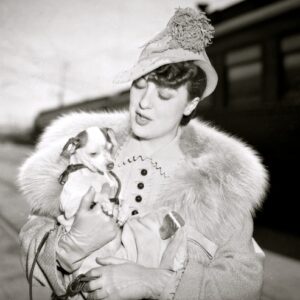 Full Bio
Born
Rose Louise Hovick
January 8, 1911
Seattle, Washington, U.S.
Died
April 26, 1970 (aged 59)
Los Angeles, California, U.S.
Occupation
Actress, author, playwright, vedette, dancer, entertainer
Years active
1928–69
Spouse(s)
Robert Mizzy
(m. 1937; div. 1941)
Alexander Kirkland
(m. 1942; div. 1944)
Julio de Diego
(m. 1948; div. 1955)
Children
1
Parent(s)
John Olaf Hovick
Rose Thompson Hovick
Relatives
June Havoc (sister)
Gypsy Rose Lee was born in Seattle, Washington, on January 8, 1911; however, she always gave January 9 as her date of birth. She was known as Louise to her family. Her sister, actress June Havoc, was born in 1912. Their mother, Rose Thompson Hovick, forged various birth certificates for each of her daughters—older when needed to evade varying state child labor laws, and younger for reduced or free train fares. The girls were unsure until later in life what their years of birth were.
Career
Louise's singing and dancing talents were insufficient to sustain the act without June. Eventually, it became apparent that Louise could make money in burlesque, which earned her legendary status as an elegant and witty striptease artist. Initially, her act was propelled forward when a shoulder strap on one of her gowns gave way, causing her dress to fall to her feet despite her efforts to cover herself; encouraged by the audience's response, she went on to make the trick the focus of her performance.
Her innovations were an almost casual stripping style compared to the herky-jerky styles of most burlesque strippers (she emphasized the "tease" in "striptease"), and she brought a sharp sense of humor into her act as well. She became as famous for her onstage wit as for her stripping style, and—changing her stage name to Gypsy Rose Lee—she became one of the biggest stars of Minsky's Burlesque, where she performed for four years. She was frequently arrested in raids on the Minsky brothers' shows. During the Great Depression, Lee spoke at various union meetings in support of New York laborers. According to activist Harry Fisher, her talks were among those that attracted the largest audiences.
In 1937 and 1938, billed as Louise Hovick, she made five films in Hollywood. But her acting was generally panned, so she returned to New York City where she had an affair with film producer Michael Todd and co-produced and appeared in his 1942 musical revue, Star and Garter.
Lee viewed herself as a "high-class" stripper, and she approved of H. L. Mencken's term "ecdysiast", which he coined as a more "dignified" way of referring to the profession. Her style of intellectual recitation while stripping was spoofed in the number "Zip!" in Rodgers and Hart's Pal Joey, a musical in which Havoc had appeared on Broadway, opposite Gene Kelly. Lee performed an abbreviated version of her act (intellectual recitation and all) in the 1943 film Stage Door Canteen.
In 1941, Lee authored a mystery thriller called The G-String Murders, which was made into the sanitized 1943 film, Lady of Burlesque starring Barbara Stanwyck. While some assert this was in fact ghost-written by Craig Rice, there are those who claim that there is more than sufficient written evidence in the form of manuscripts and Lee's own correspondence to prove that she wrote a large part of the novel herself under the guidance of Rice and others, including her editor George Davis, a friend, and mentor. Lee's second murder mystery, Mother Finds a Body, was published in 1942. In December 1942, preliminary papers alleging breach of contract were filed in the Supreme Court against Lee by Dorothy Wheelock, associate editor of Harper's Bazaar, alleging that in August 1940 she and Gypsy entered into what Wheelock described as "an oral agreement to collaborate on a joint venture involving the conception, construction, development, writing, and exploitation of a literary work with a burlesque background. The agreement, Miss Wheelock went on, called for a 50:50 split on all income from sale of the book. She charged that she had lined up a publisher for the book when, in November 1940, Gypsy called off the collaboration ... Lee said she turned over notes and other material to Miss Wheelock and that the latter had then written 'a sample book'. However this sample book is not the book that was published, Gypsy declared. She denied any resemblance between Miss Wheelock's book and the book published under her own name, except such similarities might stem from the notes Gypsy turned over to Miss Wheelock. Simon & Schuster agreed to publish the book, Gypsy said, after the first three chapters were shown to them by Janet Flanner, a New York writer". The case was settled out of court.