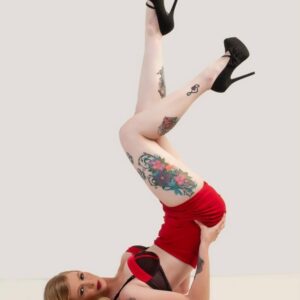 Short Bio
Army Veteran turned pinup ;)
Full Bio
I've always loved the vintage/pinup style. From the cars to the clothes, its always been so fascinating to me.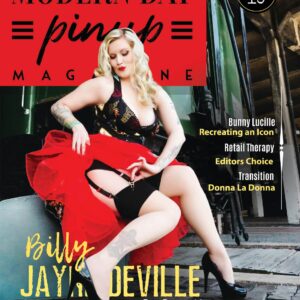 Full Bio
Hey, Sugar! My name is Billie Jayne DeVille. I was born and raised a Georgia Peach but I now
call South Carolina my home. I'm a full-time artist/pinstriper and a total sucker for whitewall
tires and big tailfins! When I'm not painting, you can find me cruising in my 53 Chevy, my 55
Cadillac, my 63 T-bird or in the shop getting down and dirty with my 58 Plymouth restoration project! I am also co-owner of Deville Magazine, a quarterly kustom kulture publication available in both print and digital!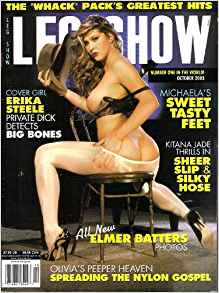 Short Bio
Easy riders centerfold,
myfreecams
dancer
Full Bio
cabaret dancer at LUCKY LADY CABARET, internet chat model for myfreecams, published Easy riders centerfold and spokesmodel, Gold avenger for superheroinecentral.com, catfightcentral.com, always looking for cool photographers to shoot with...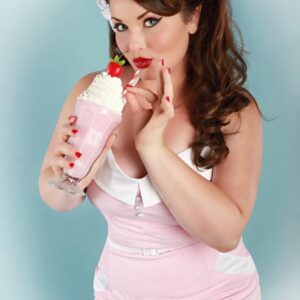 Full Bio
Lyndah Pizarro is reality TV personality with a love for all things Pin Up. Lyndah is globally syndicated thanks to her starring role on the hit TV show Operation Repo. Well know for being aired all across the globe and in numerous countries, Lyndah then took her notoriety to different areas where she found much success such as starting her own clothing link known as Pink Pizza, starting her own skin care line known as Lyndah face and make up known as Lyndah Beauty. Lyndah decided to then take a shot at modeling. After trying different genres if modeling, she finally landed where she was always meant to land, in the Pin up world. Since her first photo shoot as a pin up model with Girlie Show photography, Lyndah has been published twice in RetroLovely Magazine and can also be found in Pin Up Kulture Magazine. Then in 2020, Lyndah found herself in her very first international publication with BombShell Magazine.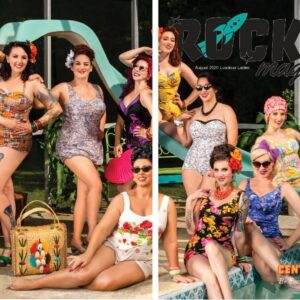 Short Bio
I'm an Orlando-based photographer working in portraiture and pin-up. As a former model, it's my goal to provide clients with images that make them feel as uniquely beautiful as they are.
Full Bio
I'm an Orlando-based photographer working in portraiture and pin-up. As a former model, it's my goal to provide clients with images that make them feel as uniquely beautiful as they are.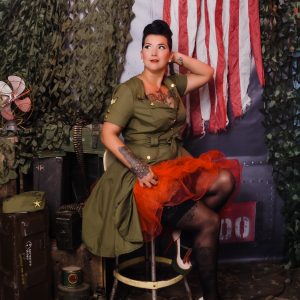 Full Bio
I was born in Indiana but moved to Tennessee in my late teens. My mother introduced me to Marilyn Monroe at a very young age and I have been enamored with everything pin-up, vintage, and retro ever since. I started pin-up modeling in 2019 with my best friend and photographer Pamela Claytor. I have been very lucky to be a part of her vision and have her expertise along the way. I have been published 7 times so far and have 5 more publications coming up!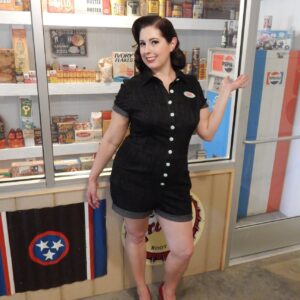 Full Bio
Sammi has been a lover of pin-up kulture from a young age. She attended many car shows with her family, and won her first hoola hoop contest at age 5. She also won the first beauty pageant she ever entered at age 7.
Her step-grandfather introduced her to Marilyn Monroe with his collection of dolls, movies, and life-size prop. After seeing the movie Some Like It Hot, Sammi fell in love with Marilyn! Then in her teenage years Sammi found Bettie Page and her love for pin-up grew even further!
Sammi has always been very photogenic and started modeling in 2003. She has continued to expand her love of being in front of the camera and vintage style to her artwork today.
Sammi also loves serving the community as a dental professional and certified personal trainer.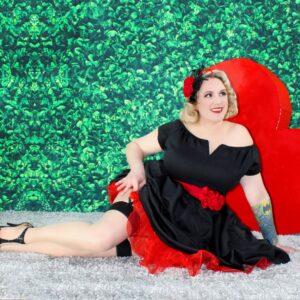 Full Bio
I'm a full time mom of a 15 yr old beautiful & academically gifted bombshell daughter a 9 yr old LEGO & living encyclopedia of all things Star Wars/Dinosaur related. I'm also a full time North Carolina Paramedic. Helping others is one of the joys of my heart! I take very little time for myself unless it comes to my hobbies of running or Pinup.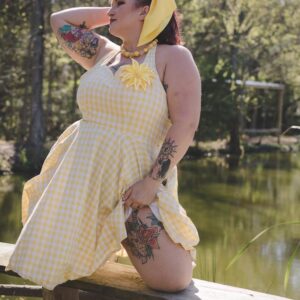 Short Bio
Just a fun , animal loving pinup! Animals and modeling are my favorite hobbies / passion.
Full Bio
I love working events like charity and car shows. I am a wildlife rehabber, I have a love for animals. Pinup modeling is a passion. When I have the time , I just love waking our parks, trails, and adventuring to the springs ! Classic rock music is a love and absolutely love playing it during shoots. I have been modeling since I was about 9 years old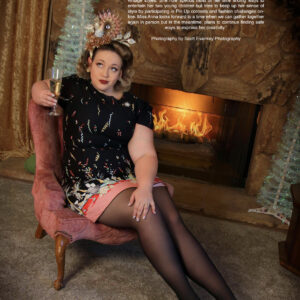 Short Bio
Mom, pinup, designer
Full Bio
Born and raised in California. Many summer evenings of my childhood could be found in the garage handing my dad a wrench or holding a flashlight. The smells of exhaust and motor oil bring back those happy memories, because of that, I can often be found at car shows. Most of my time is occupied with wrangling my two rambunctious young sons but when I have some free time I like to create. Whether that's from either side of a lens, leaning over a craft table or dabbling away on a design, my mind is always thinking up a new creation.