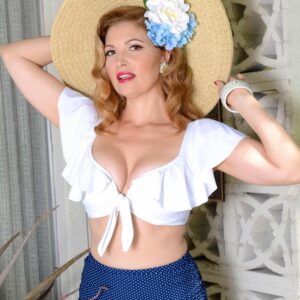 Full Bio:
The Parisian Hostess Pin Up has been living the Pin Up lifestyle for the past 5 years while creating the Handmade Apothecary Brand; The Parisian Hostess, providing Essential Oil products to those that look for a healthier more natural approach to living. Now in its 6th year of business, you can find The Parisian Hostess products in over 40 Boutiques and Spas in the United States.
Editor of the Modern Day Pin Up Magazine - the magazine every Pin Up will be reading!
Creator of Pin Up Database - the Official International Who's Who of the Pin Up World
Creator of Retro Wire - the most comprehensive international Hub for the Pin Up, Retro and Rockabilly Lifestyle
Creator of the Bombshell Academy Bootcamp  - where she teaches women how to release their inner Bombshell through hair, makeup, posing and photo shoots.
Television:
TV Norge- Alt for Norge Reality TV Show Season 10: Cast
ESPN- Making the Squad: Miami Dolphins Cheerleader: Cheerleader
American Forces Network- Outside the Gate: Travel Series Host
American Forces Network- Creative Commissary Cooking: Series Host
Bookings:
The Parisian Hostess Pin Up is available for Photoshoots, Hosting & Teaching Engagements. Please send an email for more information.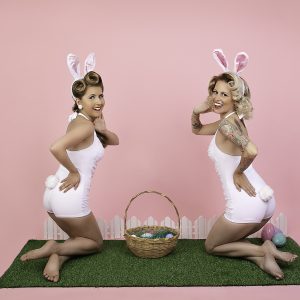 Short Bio:
Army Veteran Pinup Girl & Artist
Full Bio:
Published pinup model. Artist, creator, crafter, knitter, mom, trained hairdresser, and makeup artist. Pinups for Pitbulls ambassador, dog advocate, South Florida Volunteer Team Leader and 2020 Calendar Model (Miss October). Pinned Ladies 2020 Calendar Model (Miss April). Miss Peterson's Pinup 2019 (Peterson's Harley Davidson South Florida). ARMY VETERAN.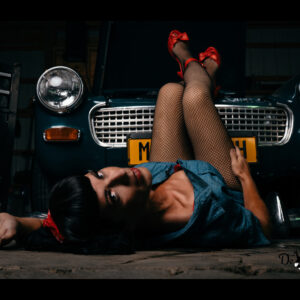 Short Bio:
Meg De'Lish is an upstate New York pin up, who's mission is to instill confidence and body positivity in women of all shapes, sizes, ages, and ability while raising money for worth causes.
Full Bio:
My name is Meg De'Lish, I have been a photographer for most of my life and a Pin Up model for about three years now. I believe the getting involved in causes you believe is an important part of being a pin up and an example for others. I do work to raise money and awareness with veteran's groups and The Rolphie Fund, a charity that helps children in economic need. I also believe that only how beautiful you are matters. One of my biggest inspirations, Dita Von Teese, is older than me and she is still radiant, inspiring, and beautiful. I'm sure she will be for decades to come, and I want to be right there with her pushing the notion that beauty standards have anything to do with age. When I am older I will challenge the concept that only if you are young, in shape and have great skin can you be seen as beautiful, confident, and sexy. Women of all shapes and sizes are beautiful and sexy. To be beautiful, confident and sexy takes inner beauty, which should be a what women and girls strive for... being beautiful from the inside out. Remember, I'm De'Lish... and so are you.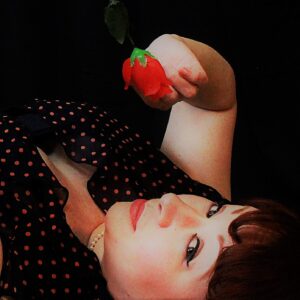 Short Bio:
Ginger Beginner Pin Up in the PNW
Full Bio:
I have always loved the pin up history and the fashion. I am just starting out on my pin up journey, and I am currently and active member of the Capital City Dolls. I hope to branch out more in order to meet and contribute to the positivity of the culture.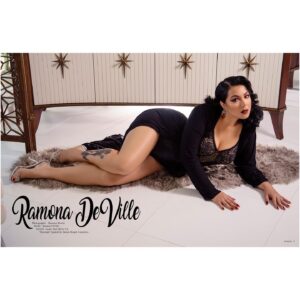 Short Bio:
Classy Chassy with a Kiss of Sassy
Full Bio:
Internationally Published Pin-up Model. Ramona Deville was born in New Jersey, raised in Miami and of Colombian descent. She loves Retro Vintage Americana culture from the 30s to the early 60s. She likes rockabilly, psychobilly, classic cars, classic monsters/horror, and Pinball. She is president of the Luscious Ladies South Florida Chapter, the largest Pin-up group worldwide. Her inspirations include Bettie Page, Vampira, and the hostess with the mostess, mistress of dark, Elvira and is a proud owner of her pinball machine , Elvira and the Party Monsters.
*Miss Iron & Clematis 2014 *Miss Old Soul Young Blood 2014 *Cover model Pinup Worship Magazine December 2018 Holiday issue *Published over 40 times in Retro Magazines such as Retro Lovely, Pinup Kulture, Bombshell Magazine in UK, Pinup Perfection, Atomic Bombshells, Pinup America, Garters and Grill, Pinups and Hotrods, Pink Elephant.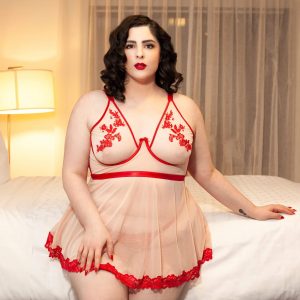 Short Bio:
Montreal's Curvy Cat
Full Bio:
Miss Meow, Montreal's curvy cat, is an internationally published plus size model, event producer, and whisky loving bombshell! With a classic shake of her hips and a teasing gleam in her eye, she'll make sure you purr with pleasure..
Full Bio:
Hey, Sugar! My name is Billie Jayne DeVille. I was born and raised a Georgia Peach but I now
call South Carolina my home. I'm a full-time artist/pinstriper and a total sucker for whitewall
tires and big tailfins! When I'm not painting, you can find me cruising in my 53 Chevy, my 55
Cadillac or in the shop getting down and dirty with my 58 Plymouth restoration project!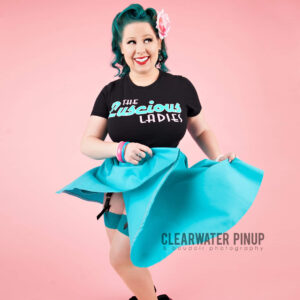 Short Bio:
Hi! I'm Mayzie! I'm a vintage/retro pinup model based in Tampa Bay, Florida
Full Bio:
I have always had a love of vintage, and with finding the pinup/rockabilly lifestyle, I feel like I have finally found my place in this crazy world!
I'm a mom of six - 3 human kids and 3 dachshund puppies! When I'm not busy at home or modeling, I'm also a professional photographer. My Husband & I own Clearwater Pinup and Boudoir Photography.
Why "Mayzie"?
I am a HUGE Dr. Seuss fan. I have always loved all of his books - I grew up loving thim & have passed the love down to my children. I really wanted to use a name from one of his books, but unfortunately, there were only a handful of names I thought would fit for a pinup name. I ultimately settled on "Mayzie" from "Daisy-Head Mayzie" and "Mayzie La Bird"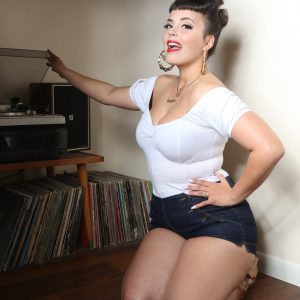 Full Bio:
Miss Lola is an aspiring pin-up/rockabilly chick whose love for vintage and antique dates back to when she was a wee chickadee. She is an East coast girl living in the land of desert and cactus. Please stop asking her why.
She officially started collecting vintage items back in 2016 and that was the same year she also adopted the pin up look. She officially debuted as a pin up back in 2018 but is now becoming more active in the community as of 2020.
Lola's personality is described as sweet and personable with a fiery edge. She also has passions for history, 18th century gowns, and Greek mythology. One of her goals is to go back to school for archeology and Hellenistic studies. Her 2020 goals is to become more active in the rockabilly/pin up community, volunteer, and place in the 2020 Arizona Rockabilly Pageant.